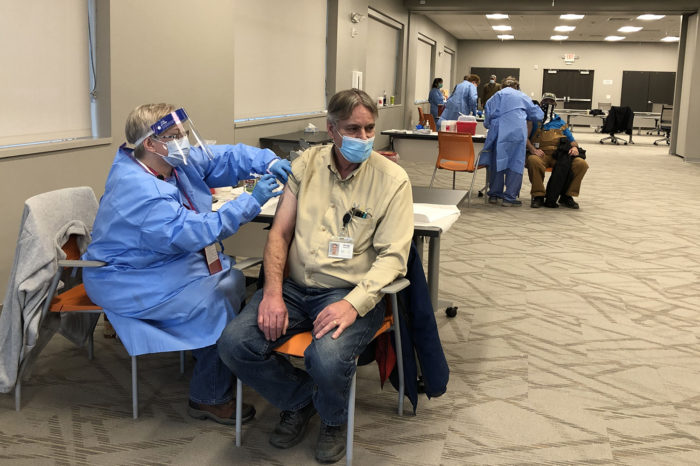 A Michigan electric cooperative's employees are rolling up their sleeves to get inoculated against the coronavirus and helping to defeat the pandemic by supporting vaccine distribution in their service territory.
Cassopolis-based Midwest Energy & Communications recently held a vaccine clinic for employees and will host a drive-in site for its regional health department.
"We're working with the Van Buren/Cass District Health Department to help Michigan meet its pandemic vaccination goals," said Patty Nowlin, MEC's vice president of corporate communications.
Nearly half of the co-op's 130 staff received their first shots of the Moderna vaccine Jan. 15. A second round of vaccines is set for Feb. 12.
Michigan Gov. Gretchen Whitmer drafted an executive order as guidance for the state's COVID-19 response plan last May. It outlined operational changes and resource allocations for first responders, including health care providers and public safety personnel.  Certain utility workers, including some electric co-op employees, were placed in an essential category and designated for inclusion among the next groups eligible to receive vaccines.
By the time COVID-19 vaccinations began nationwide in December, the co-op had months of ongoing interaction with local public health officials.
"The local health department reached out to us several months ago," said Nowlin. "Michigan has a statewide vaccination goal to get 50,000 shots in arms every day. To try to achieve that goal, they modified the plan to begin inoculating the first and second categories of eligible individuals at the same time."
When the local health district notified co-op officials that vaccines would be available, a voluntary participation program was opened for MEC employees. The co-op immediately began a staff awareness campaign, providing publicly available information to help staff decide whether to participate.
"I know a lot of people are very afraid; it's so unknown. But I also know there are a lot of people who want to be part of the solution," said Nowlin. "We have to step forward and start doing something proactively to return to some sense of normalcy, and the experts say vaccines are a step toward that goal."
Once vaccines are available to help meet the needs of the general population, the co-op plans to host drive-in clinics in the vehicle bays, said Nowlin, adding that public health officials will supply and administer the medication.  "We've got extensive parking just outside of the vehicle bays where people can sit for their 15 minutes, so they can be monitored after they're vaccinated."