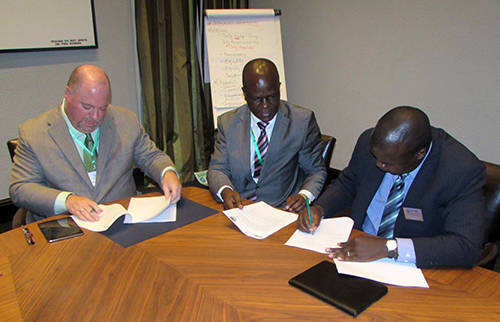 A new memorandum of understanding between NCBA CLUSA and the African Confederation of Cooperative Savings and Credit Associations (ACCOSCA) is expected to strengthen linkages between the two organizations in the areas of agriculture, youth development and cooperative health.
"Signing this MOU formalizes our relationship with ACCOSCA at a time when it is crucial to strengthen the link between cooperative sectors in Africa, as well as the link between NCBA CLUSA's development projects and the financial resources of Africa's credit unions," said NCBA CLUSA president and CEO Mike Beall.
Beall signed the MOU along with ACCOSCA CEO George Ombango at a ceremony witnessed by ACCOSCA board members and Joyce Wafula, chief of party for NCBA CLUSA's work in Kenya.
The MOU offers specific financial support for ACOSCA's Cooperative Development Education (DE) training program—the premier retreat-style training program for Africa's top credit union leaders. Beall and Wafula were the featured facilitators for a day of cooperative training and linkages on NCBA CLUSA's agriculture, youth development and health projects. NCBA CLUSA's projects in Kenya and Uganda were featured during the DE training.
Beall is a founder of the DE program in Africa, and Wafula is a graduate of last year's inaugural class of 2014. This year, more than 40 African credit union and cooperative leaders earned the designation of Africa Development Educators (ADEs).
NCBA CLUSA is currently implementing projects in eight African countries, focusing on the areas of food security, nutrition, conservation farming and agriculture; democracy and governance; natural resource management; cooperative development; and the empowerment of women and youth. The overarching goal of NCBA CLUSA's projects is to build resilience within communities. A robust training program element is embedded in each of NCBA CLUSA's projects to help ensure the sustainability of its interventions.