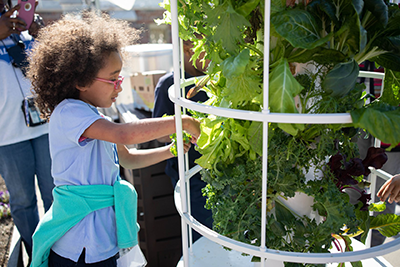 National Co+op Grocers (NCG) and partners within the natural/organic foods industry have made a $77,350 contribution to the National Farm to School Network (NFSN) to help increase kids' access to healthy, local food across the U.S.
NCG led the fundraising effort as part of its annual grocery and wellness conference and tradeshow, Co+nvergence, held over the summer in St. Paul, Minnesota. More than 350 retail food co-op grocery and wellness buyers attended, joined by nearly 300 representatives from natural and organic grocery and wellness companies.
A leader in U.S. farm-to-school movement since 2007, NFSN enriches the connection communities have with fresh, healthy food and local food producers by enhancing food purchasing and education practices at schools and early care and education settings. The money raised at Co+nvergence will be used to fund NFSN's new equity learning lab, a project aimed at advancing equity within the farm-to-school movement.
"Food co-ops believe that everyone should have access to good, healthy food and we are excited to support NFSN's work to impact food access by advancing diversity and inclusion within farm-to-school programs," said C.E. Pugh, CEO of NCG. "It is an honor to support this important grassroots work."
"NCG and its partners' generous donation will have a big impact at an especially critical time," said Helen Dombalis, Executive Director of NFSN. "Advancing equity has been a core value of NFSN since our founding. In recent years, on a strategic level, our partners and staff have identified advancing racial and social equity as a key priority for the next phase of our organization. This donation will help us train farm-to-school leaders from across the country to increase their knowledge of equity principles and strategies and to ensure we maximize impact towards addressing inequities and injustices in our food system."
Industry partners joining NCG in the fundraising initiative include United Natural Foods (UNFI), which contributed $15,000 and Alter Eco, maker of fair trade and organic chocolate sold by NCG co-ops nationwide, which also contributed generously to the effort.
"Alter Eco is proud to partner with values-driven organizations like NCG in supporting National Farm to School Network," said Mike Forbes, CEO at Alter Eco. "It's critical that our kids understand where their food comes from and why it matters!"