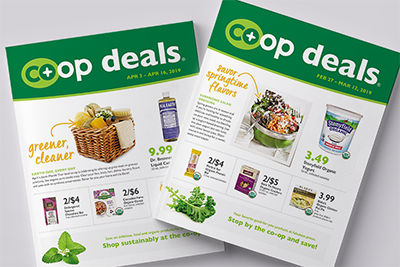 In celebration of Earth Day, National Co+op Grocers (NCG) announced the release of its 2018 Advocacy and Sustainability Report, highlighting how food co-ops are working in cooperation through NCG to increase the positive environmental and social impact of the sector.
"Shoppers can see much of the value their local food co-op brings to their community, but there is so much more to the story that is not always visible," said C.E. Pugh, CEO of NCG. "Through NCG, food co-ops are influencing public policy that prioritizes healthy food access programs and organic agriculture, building an inclusive economy that supports fair trade producers and improving the environmental impact and sustainability of our sector. We're excited to share this story with our 2018 report."
The report highlights key ways that food co-ops are expressing two cooperative principles: Cooperation among Cooperatives and Concern for Community. Through NCG, food co-ops donated more than $600,000 in 2018 to organizations pursuing activities that support food co-op values: a more sustainable food system, the fair treatment of people, a cooperative economy and a healthy environment. An additional $200,000 was raised to help rebuild cooperatives in Puerto Rico and provide flood relief for fair trade farmers in Kerala, India.
The report also highlights the strength of NCG's Co+op Deals promotions program to increase support for products that exemplify food co-op values, like organic agriculture, fair trade and cooperatively produced goods. The program generated more than $8.3 million in fair trade sales and $11.8 million in sales of cooperatively produced goods in 2018. A Certified B Corporation, NCG also actively promotes products produced by other B Corps—with $13.5 million in sales through the program last year.
NCG's innovative carbon offset program, Co+op Forest, offset emissions related to business travel and utilities with the planting or conservation of over 70,000 trees in 2018—bringing the total to nearly 2 million trees in the San Martin region of the Peruvian Amazon rainforest since the program's debut in 2012.
"It's nothing short of amazing what people can accomplish when they work together with intention and shared values," said Allie Mentzer, NCG's Advocacy Senior Manager. "We are proud of everything food co-ops do to protect and honor this planet and all of the diverse communities that call it home."