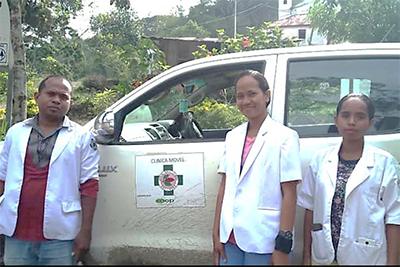 Over 4,300 rural patients have received medical and dental care so far thanks to the first half of a yearlong partnership between National Co+op Grocers and Cooperativa Café Timor in the Southeast Asian country of East Timor.
Beginning in May 2018, the Cooperativa Café Timor (CCT) health program was able to hold more than 100 day-long clinics across nine villages, treating illness such as upper respiratory infections, dental care and vaccinating children.
The partnership, funded by National Co+op Grocers, supports CCT's Lauana rural mobile clinic service. CCT is a large Timorese agricultural cooperative with over 24,000 member families and is best known for its high quality coffee. The Lauana mobile health service provides medical services to 2,500 remote farmer families living in the rugged central mountain ranges of East Timor. These families typically have no access to any other medical service.
"We are grateful to be able to partner with NCBA CLUSA and CCT to help improve healthcare in East Timor, where some of the coffee in NCG food co-ops' fair trade supply chain is sourced," said C.E. Pugh, NCG's Chief Executive Officer. "Our support for the mobile health clinic is an expression of the 6th Cooperative Principle, and helps fulfill NCG's United Nations Sustainable Development Goal to support the development of fair trade, small holder cooperatives."
The CCT Launa mobile clinic services team is a dedicated team of health professionals, including a midwife and two general nurses. The team visits nine remote villages each month on a regular schedule. Three larger villages have once-a-week visits, and the other six are visited a couple times a month. Departing their base clinic in Lauana, the vehicle is packed with a fully portable clinic including patient documents, medications, clinical equipment, chairs, tables and water. The distance traveled each day by the team from the permanent base clinic can range from 45 minutes to two and half hours.
Within this broad primary care service, CCT health prioritizes maternal and child health. Over the six months, more than 60 women were able to access prenatal care, reducing risks of pregnancy complications. Maternal and child health is the number one health priority of the East Timor Government, and while the CCT service operates independently as a private service, they are fully integrated into the government health plan as the largest private health provider in the country.
CCT's primary health care services are a "no cost" service for rural families supported by revenues from coffee exports, Fairtrade premiums, in-kind support from the Government of Timor Leste and project funding from various organizations including Starbucks, Australian overseas AID and, in the past, by the U.S. Agency for International Development. NCBA CLUSA has supported and partnered with the co-op for over three decades.
To back ongoing health services, National Co+op Grocers dedicated funds in 2017 to provide support for the mobile clinic for one year, including vehicle repairs, medical team salaries and logistics. This frees up funding for CCT to invest in other community priorities, such as the broader clinic program. The CCT health program works in partnership with the East Timor Government for subsidized access to medication.
Cooperativa Café Timor's clinic program was the subject of the 2017 Visionaries episode on Co-op Impact—watch the video here, and learn more about NCBA CLUSA's current projects in partnership with CCT including technical assistance for agricultural diversification and work with cocoa.