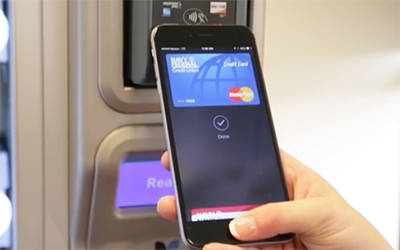 Navy Federal Credit Union is among the first wave of organizations to adopt Apple Pay, Apple Computer's new mobile retail-payment system. With more than 500 million members nationwide, Navy Federal Credit Union is the largest credit union in the United States. Credit Union Times published this report:
The $62 billion Navy Federal Credit Union announced its support for Apple Computer's new Apple Pay mobile retail payment system on November 3.
"We're excited to make this new service available to our members starting today," said Randy Hopper, vice president of Credit Cards and Business Optimization at Navy Federal. "Our members live fast-paced and mobile lives. And, they have enthusiastically adopted our mobile banking solutions."
He added, "Now, with Apple Pay, they'll be able to save time when shopping while having a safe and easy payment experience."
The Vienna, Virginia-based Navy Federal leads the way for many other credit unions that are preparing to deploy Apple Pay. The credit union launched a video on its YouTube channel to demonstrate the ease with which Apple Pay can be set up and used.
Meanwhile, Visa confirmed with CU Times that of the approximately 500 U.S. financial institutions the company has partnered with on Apple Pay, 360 of them are credit unions.
"We are in the process of testing and certifying issuer processors and their platforms which support more than a thousand credit unions so we anticipate an ever increasing number of [credit unions] to deploy the service in the not too distant future," a Visa spokesperson said.
Apple Pay was introduced to the world September 9 with the launch of the iPhone 6 and related devices. It is based on near-field communication technology built into the iPhone 6. It's estimated that tens of millions of Apple Pay-enabled devices have already been sold.