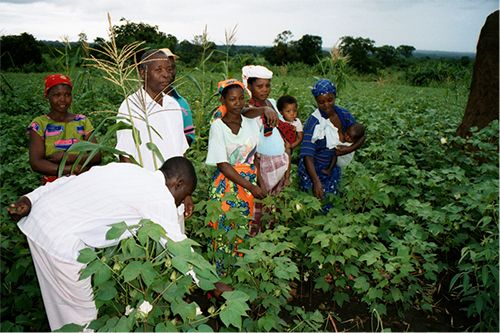 A memorandum of understanding signing ceremony in Maputo, Mozambique, earlier this month marked the launch of four innovative, public-private partnerships between the U.S. Agency for International Development (USAID) and local and international non-governmental agencies—among them NCBA CLUSA—that are expected to benefit approximately 50,000 Mozambican smallholder farmers.
The four partnerships, called "Partnerships for Innovation," are part of the U.S. Government's "Feed the Future" initiative to combat hunger and food insecurity worldwide with a focus on smallholder farmers and women's economic empowerment.
Farmers in four provinces of Mozambique will benefit from the increased availability of improved agricultural inputs, machinery and equipment; extension services, land and crop preparation; training and technology support through mobile text messaging; and better access to loans and credit.
According to a press release from the U.S. Embassy in Mozambique, private-sector partners will provide these new benefits by expanding their business services to rural communities in Mozambique through collaboration with USAID and local and international NGOs.
"These new services will address some of the biggest challenges and opportunities to spur the growth of smallholder agriculture in Mozambique today," the press release said.
The June 3 signing ceremony was hosted by U.S. Ambassador to Mozambique Douglas Griffiths and attended by representatives from the private partners—among them Carolina Reynoso, Senior Operations Manager for NCBA CLUSA Mozambique—and guests of Mozambique's Ministry of Agriculture.
"These partnerships will create new market systems and will also increase rural development and educational opportunities," Griffiths said. "In three years, we will see at least 50,000 Mozambican farm families substantially benefiting directly from activities promoted by these partnerships," he added.
NCBA CLUSA's Partnership for Innovation—with Phoenix Seeds and Oruwera—will focus on increasing the availability of and access to high-quality seeds in Mozambique. Poor quality seeds "drastically limit the production potential" of smallholder farmers in the country, Reynoso said.
In an effort to address seed quality during the 2013/14 growing season, Mozambique's Ministry of Agriculture intended to produce 24,660 tons of certified seed, but only produced 789 tons, meeting just 3 percent of their target, Reynoso said. When high-quality seeds are available, they are often too far from the smallholder farmer. A May 2015 report, she added, indicated that shops selling inputs such as seeds are, on average, more than 40 miles away from rural farmers.
"For a smallholder farmer without transportation and with little funding, this is complicated," Reynoso said.
NCBA CLUSA's SEEDS Project aims to improve the conditions of availability and access for small producers in the region. The project's objective is to increase by 30 percent the production of the following crops: sesame, peanut, cowpea, pigeon pea, lima beans and soy by 10,000 small farmers in the provinces of Nampula and Zambezia. SEEDS also includes complementary activities—provided and managed by Community-Based Service Providers—such as peanut shell mechanics, tilling services using Conservation Farming practices, and the promotion of family-sized metal silos for crop storage.
"Access to improved seeds and other inputs is a challenge for the adoption of improved farming practices," Reynoso said. "We believe that this partnership will contribute in a positive way to the development of the seed market in Mozambique."