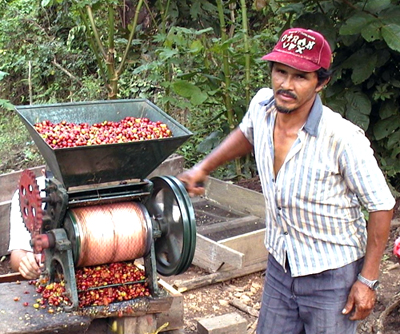 A Memorandum of Understanding signed in September of 2014 between NCBA CLUSA and Texas A&M AgriLife Research solidifies a five-year collaboration in the areas of agricultural research, food security and development to foster effective international agricultural development programs.
As part of the Texas A&M University system, Texas A&M AgriLife Research is the state's leading research agency in agriculture, natural resources and life sciences. The agency has conducted research on pressing agricultural and ranching issues since the late nineteenth century, including grass and forage production, feeding of dairy and beef cattle, and plant diseases and animal parasites. Other critical areas of research include enhanced crop nutrition, renewable energy and improved air and water quality.
NCBA CLUSA and AgriLife are now uniquely positioned to work together, particularly to fight the coffee rust crisis, research and promote improved coffee varieties, and help coffee producers diversify their crops to increase incomes. Monetarily, coffee is the one of the most important agricultural products in international trade. Small reductions in coffee yields have a significant impact on the coffee producers, the support services and potentially the credit systems in countries whose economies are dependent on coffee export.
Amy Coughenour, COO of International Development for NCBA CLUSA, said the joint effort would be "instrumental in helping smallholder farmers in Latin America effectively combat coffee rust and its negative impacts on production and incomes and help them become more resilient in the face of environmental hardships."
The relationship between NCBA CLUSA and AgriLife was spurred by Stanley Kuehn, NCBA CLUSA's regional director for Latin America and the Caribbean, and Dr. Roger Norton, regional director for Latin America and the Caribbean at the Borlaug Institute of International Agriculture and Research Professor of Agricultural Economics at Texas A&M. The two met while working in El Salvador in the 1990s and had been discussing a possible collaboration ever since Norton joined Texas A&M.
In September 2013, Kuehn was a guest lecturer at one of Norton's graduate classes, speaking about NCBA CLUSA's cooperative development work with smallholder farmers. The next year, Texas A&M AgriLife Research entered into a $5 million partnership with the United States Agency for International Development (USAID) to fight a coffee rust disease devastating coffee bean plants across Latin America.
Caused by a fungus, coffee rust lesions are yellow-orange and powdery, and appear on the underside of the plant's leaves. According to the American Phytopathological Society, coffee rust causes the plants to prematurely lose their leaves, thus weakening the tree. This adversely affects the quality of the next season's berries and dramatically reduces its yield. Depending on the weather and level of infection, yields can vary as much as 10-fold from one season to the next with the most severe infections completely destroying the plants.
Responding to the need to fight this economically crippling crop fungus, NCBA CLUSA signed a cooperative agreement with the U.S. Department of Agriculture (USDA) under the Food for Progress program to work directly with coffee producers in El Salvador dealing with coffee rust. NCBA CLUSA also recently started a new USAID-funded project in Guatemala—another country whose farmers are battling the disease.
As a leader and innovator in cooperative and sustainable international development, NCBA CLUSA has implemented more than 200 projects in over 100 countries. The current multi-year portfolio of approximately $200 million represents 20 programs in 16 countries across Africa, Asia and Latin America.
Working with a variety of groups and institutions, including farmer cooperatives, businesses, civil society organizations (CSOs), youth associations, village associations, women's groups, and local and national governments, NCBA CLUSA builds capacity at the grassroots level to create innovative, sustainable solutions for communities. Core competencies include resilience and participatory food security, nutrition-led agriculture, conservation farming (CF), smallholder farmer aggregation and cooperative development, agribusiness and value chain development, youth development, women's economic empowerment, natural resources management, coop-to-coop trade and local capacity-building.