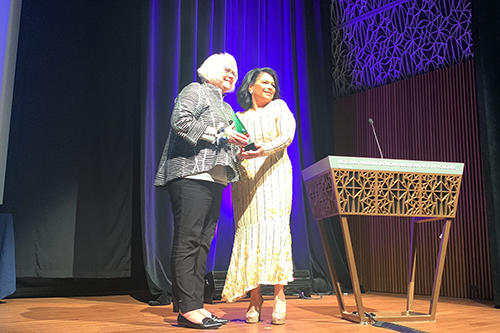 Carla Decker, COO of IDB Global Federal Credit Union and chair of NCBA CLUSA's Board of Directors, was among seven inductees to the African-American Credit Union (AACUC)'s Hall of Fame last week.
The Hall of Fame was the anchor event capping #DEITuesday at the Credit Union National Association's Governmental Affairs Conference (CUNA GAC) on February 28. Originally created as a fundraiser to support the sustainability of AACUC, the Hall of Fame has become a hallmark for honoring individuals who have positively impacted access to financial capital for communities of color.
"I am grateful and honored to join this year's AACUC Hall of Fame inductees, an outstanding group of credit union leaders whose impact and influence helps keep financial inclusion at the heart of the credit union movement," Decker said. "This recognition is also an important moment to uplift the credit union commitment to empowering communities of color, underbanked and unbanked communities through greater access to affordable, reliable financial services."
As COO of IDB Global Federal Credit Union, Decker leverages her 30 years of credit union leadership experience and passion for community service to advance the credit union's culture and vision. Previously, Decker served as president and CEO of DC Credit Union. Under her leadership, the $80 million credit union expanded its service area and refocused its mission to become a national leader in financial inclusion and community development. Her immigrant experience informed and energized DC Credit Union's initiatives to address and advocate for the financial well-being of the local Hispanic community. For that work, Decker was named one of the 100 Most Influential People to the Hispanic Community by El Tiempo Latino.
Inducted into the AACUC Hall of Fame alongside Decker were Tim Anderson, president and CEO of the United States Senate Federal Credit Union; Melinda Edmunds, president and CEO of the Patent and Trademark Office Federal Credit Union; Todd Harper, chair of the National Credit Union Administration (NCUA); Lois Kitsch, co-founder of CU Difference; George Ombada, executive director of the African Confederation of Co-operative Saving and Credit Association (ACCOSCA); and Michael Ray, vice president of Business Development at PAHO/WHO Federal Credit Union. Learn more about the inductees here.
"The Hall of Fame Induction Ceremony was inspiring and momentous," AACUC Board Chair Maurice R. Smith said. Smith is himself a 2017 Hall of Fame Inductee, recipient of the 2019 Peter Crear Lifetime Achievement Award and a 2021 DEI Trailblazer. "The global impact and influence of this year's honorees magnifies the catalytic effect of the credit union movement on creating thriving, financially viable communities and individuals, especially among marginalized and underrepresented communities."
Sponsored by Visa, more than 400 guests attended this year's Hall of Fame, featuring a keynote from U.S. Congresswoman Maxine Waters and taking place at the Oprah Winfrey Theater at the historic National Museum of African American History and Culture.
"With this new outstanding class of honorees, we have now inducted 63 leaders from our credit union movement," AACUC President/CEO Renée Sattiewhite said. "The incredible support we received from our sponsors allows us to continue to provide our unique value proposition of leading the industry in eradicating racism and enabling credit unions to be more inclusive and diverse. We are truly thankful to the organizations and individuals who roll up their sleeves with us and have joined us in delivering our mission.