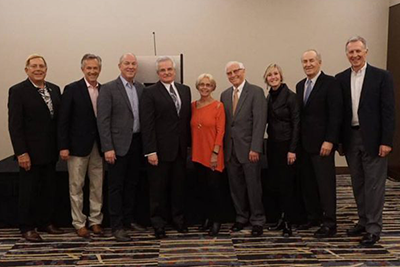 Joseph "Joe" Bergeron, president and CEO of the Association of Vermont Credit Unions, has been recognized with the 2018 Eugene H. Farley League Leadership Award by the American Association of Credit Union Leagues (AACUL).
The award honors a league employee who demonstrates visionary leadership at the state and national levels.
Under Bergeron's tenure, Vermont credit union affiliation consistently stands at 95 percent or higher and now 60 percent of Vermont consumers are credit union members. This dramatic growth in Vermont's credit union system has positioned Vermont's credit unions as the largest state-based financial institutions in Vermont.
Joe Bergeron's tenure with the Association of Vermont Credit Unions began in 1978. In 1980, at just 24 years of age, he became President and CEO of the Association and he continues to serve in that role today. This gives Bergeron the unique characteristic of being one of the youngest individuals ever chosen as a president of the Association, as well as one of the longest serving in that capacity.
Bergeron's distinguished career includes serving on the Board of Directors for CUNA, Tricorp Federal Credit Union, the National Cooperative Business Association CLUSA International, and the Vermont Energy CO-OP. He also serves as an advisor for the CO-OP Development Institute and the Center for Financial Literacy at Champlain College and is an active volunteer with CUNA and AACUL, currently serving as the Chairman of AACUL's State Issues Advocacy Committee and a member of the National Action and Response Program Administrative Council and the National Advocacy Fund Steering Committee.
"It was an honor to present this award to Joe," said Scott Simpson, AACUL Chair and Utah Credit Union Association president and CEO. "Joe has demonstrated substantial leadership in a variety of times and places. Among League Presidents, he is a steady and stable force, but this does not mean he is passive or dispassionate. Joe is deeply concerned and committed to the long-term well-being of credit unions, Leagues, and cooperative business as a whole. His steady leadership and strong commitment have paved the way for long-term success among Joe's credit unions and, by extension, throughout the credit union system. His constant commitment to continuing to learn and advance the system is an inspiration."
Joe Bergeron received the award at a reception held with credit union system leaders on March 9 in conjunction with CUNA's Governmental Affairs Conference.
The Farley League Leadership Award was endowed by a contribution from Richard Heins, former CEO of CUNA Mutual Group, and named in honor of Gene Farley, former CEO of the Virginia Credit Union League, in recognition of his longtime leadership in the credit union movement.
"I had the honor of knowing Gene Farley earlier in my career," said Bergeron, "And am humbled to have my name on an award that bears his name."