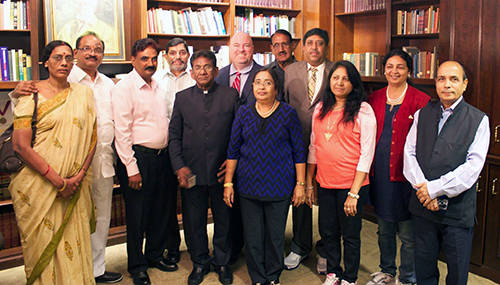 (August 25, 2015)
On a two-week trip to visit their credit union and cooperative bank counterparts around the U.S., leaders of Indian cooperative banks and the National Federation of State Cooperative Banks visited NCBA CLUSA headquarters this week.
During a discussion of the gap between financial sector co-ops and their non-financial counterparts, it became clear that getting cooperative capital into credit unions and cooperative banks is a common challenge for both countries.
"Co-ops need access to capital," said Mike Beall, NCBA CLUSA president and CEO. Getting the co-op sector to choose credit unions over commercial banks not only supports cooperation among cooperatives (Cooperative Principle 6), but is beneficial for all, Beall said.
If non-financial co-ops shifted 50 percent of their deposits to credit unions rather than depositing in commercial banks over the next decade, the U.S. co-op sector has the potential to earn $2.2 billion more as a whole, according to a recent report by the Filene Research Institute.
The delegation also discussed youth perception of cooperatives and touched on the International Cooperative Alliance's Blueprint for a Cooperative Decade.
NCBA CLUSA has a long history of cooperative work in India. The organization's international work in the country began more than 60 years ago. In 1953, NCBA CLUSA responded to requests from cooperative leaders in India for assistance in strengthening their co-ops. NCBA CLUSA's work had its most transformative impact in the dairy and fertilizer sectors, yielding two companies that are today among the world's largest in their respective industries.