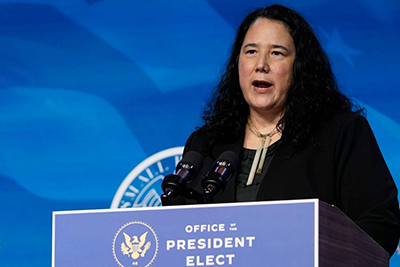 In a letter last week, NCBA CLUSA joined 82 organizations urging the Senate Small Business Committee to swiftly schedule a nomination hearing for Isabel Guzman, President-Elect Joe Biden's nominee to serve as Administrator of the U.S. Small Business Administration (SBA).
As SBA Administrator, Guzman will oversee several programs and policies important to cooperatives, especially in the face of the ongoing COVID-19 pandemic, including the Paycheck Protection Program and the Economic Injury Disaster Loan program.
The CARES Act in March and Economic Aid Act in December ensured co-ops can participate in these programs, but many co-ops have reported experiencing challenges, largely due to SBA's longstanding practice of requiring a personal guarantee and subsequently not meaningfully working with cooperatives.
In that vein, NCBA CLUSA continues to work rigorously on reforming SBA's personal guarantee requirement through the 7(a), Community Advantage, disaster assistance and other SBA programs. The personal guarantee requirement involves one individual putting a personal asset or property on the line to 'secure' the loan guarantee from SBA. This requirement is inherently incompatible with the cooperative business model, which operates on the basis of one person, one vote.
Prior to her nomination, Guzman served as the Director of the Office of the Small Business Advocate within the California Governor's office of Business and Economic Development (GO-Biz). Before that, Guzman worked as Deputy Chief of Staff and Senior Policy Advisor for the U.S. Small Business Administration. In these roles, her work has been centered on innovative startups and access to capital.
NCBA CLUSA recently participated in a roundtable hosted by Business Forward and Small Business For America's Future, which featured Guzman and Rhode Island Governor Gina Raimondo, President-Elect Biden's nominee to serve as Secretary of Commerce. During the roundtable, Guzman highlighted her commitment to an equitable recovery, especially emphasizing reducing barriers for women and rural entrepreneurs.