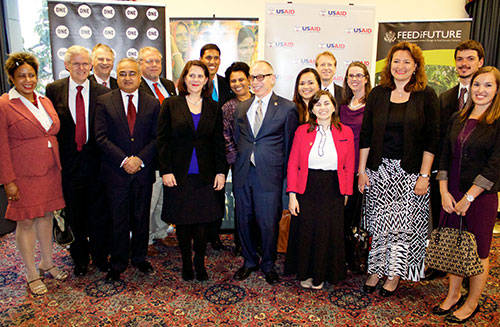 NCBA CLUSA joined 32 other international development organizations last week to pledge a collective $1.5 billion to advance global food security, nutrition and resilience.
"Chronic hunger and malnutrition destabilize families, communities and nations," said Amy Coughenour, NCBA CLUSA's Chief Operating Officer for International Development. "As a signatory, NCBA CLUSA is proud to take an active role in this pledge, reaffirming our commitment to sustainable food security and nutrition and their impact on community well-being and national stability."
The pledge came during a May 19 signing on Capitol Hill of a memorandum of understanding between NGO alliance InterAction and the U.S. Agency for International Development (USAID). The United States has been a global leader in agriculture-led development since 2009, when President Barack Obama launched his flagship Feed the Future initiative, which seeks to deploy nutrition-led agriculture in the global fight against hunger, poverty and nutrition.
The Feed the Future NGO Global Food Security Pledge is expected to enable USAID to leverage the private resources, technical expertise and established community networks of NGOs to maximize the impact and sustainability of U.S. government and taxpayer investments to end hunger.
The needs are overwhelming. According to the latest reports by the UN Food and Agriculture Organization (FAO), there are an estimated 870 million hungry people worldwide, 98 percent of whom live in developing countries. In 2013, UNICEF reported that chronic food insecurity has stunted 26 percent of the world's children under the age of five. By 2050, experts say massive population growth and changing diets will require a 70 to 100 percent increase in food production to ensure sustainability.
"The focus on nutrition-led agriculture—which NCBA CLUSA implements in some of the most vulnerable communities worldwide—is at the heart of this pledge, and is a vital part of ensuring sustainable development and increased food production going forward," Coughenour said.
As a signatory to the pledge, NCBA CLUSA was on hand to witness the signing of the landmark agreement by InterAction president and CEO Samuel A. Worthington and USAID Administrator Rajiv Shah.
The agreement is expected to help establish a formal process for collaboration between Feed the Future partner agencies and InterAction pledge members to share information, best practices and resources.
"By harnessing science, technology, innovation and partnerships, we can unlock opportunity and end widespread hunger for the world's most vulnerable people," Shah said.
NCBA CLUSA and other InterAction members are entering into the agreement "while maintaining their own separate and unique missions and mandates, responsibilities and funding framework," the memorandum said, adding that the pledge is not an obligation of funds or a legally binding commitment.
InterAction is the largest alliance of U.S.-based international NGOs, with close to 200 members working in every developing country.
Thirty-three InterAction members joined the $1.5 billion dollar pledge. They are: Action Against Hunger USA, Adventist Development and Relief Agency International, Aga Khan Foundation USA, American Jewish Joint Distribution Committee, American Jewish World Service, BRAC USA, Bread for the World, CARE USA, Catholic Relief Services, ChildFund International, Church World Service, Concern Worldwide, Convoy of Hope, Food for the Poor, Freedom from Hunger, Heifer International, Helen Keller International, INMED Partnerships for Children, Islamic Relief USA, Latter-day Saints Charities, Life for Relief and Development, Lutheran World Relief, Mercy Corps, NCBA CLUSA, Pan American Development Foundation, Plant with Purpose, Save the Children, The Hunger Project, Trickle Up Program, World Concern, World Vision and Zakat Foundation of America.