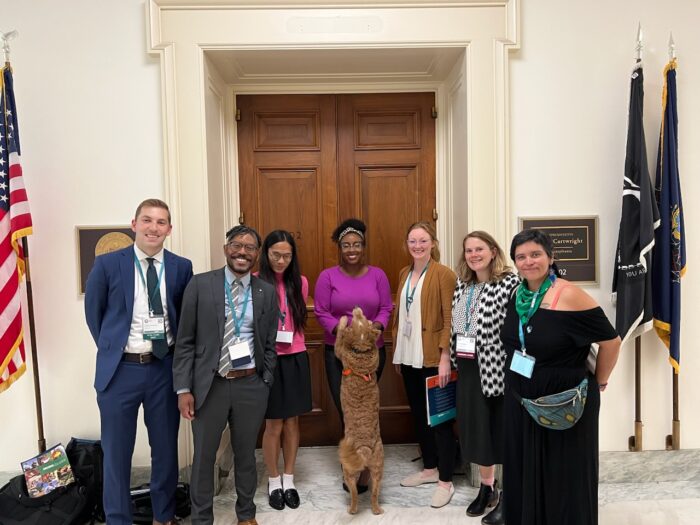 On October 4, NCBA CLUSA co-op members from around the country gathered in Washington, DC for the 2023 Co-op IMPACT Conference. Throughout the afternoon, Hike the Hill co-op advocates attended thirty-seven different congressional meetings with both House and Senate offices headed to Capitol Hill on Wednesday afternoon to educate congressional staff on NCBA CLUSA's co-op legislative priorities as part of an afternoon event known as "Hike the Hill." 
Cooperators met with the offices of Congressional Members sitting on key committees such as the Agriculture Committee, Small Business Committee, Appropriations Committee, and beyond. Hike the Hill brought together various co-op sectors—agriculture, finance, credit unions, rural electric, housing, health, food, and purchasing— to engage on a broad range of issues.  
Preservation of Cooperative Tax Status
The cooperative business model enables greater community ownership of businesses and, as a result, an increase in local spending of profits within local communities. 

 

Co-op businesses are

inherently both locally based and participatory, embodying a direct connection between member needs and the services provided. Because of this, cooperatives are well-positioned to contribute directly to community vitality and stability, modeling equitable and inclusive economic practices. 

 

Fair tax treatment of cooperative entities is an essential aspect of the cooperative model

. Due to the unique community-first practices of co-op businesses, it is vitally

important for Congress to preserve cooperative tax status. 

 
Reauthorization of the 2023 Farm Bill
There is an opportunity for Congress to support cooperatives and ensure they continue to create jobs, preserve businesses, and promote local economic growth by swiftly

reauthorizing the 2023 Farm Bill

prior to the upcoming December 31 deadline and by making the following changes.

 

Modernizing the Rural Cooperative Development Grant Program (RCDG) 

 
Maintaining Affordable Energy Infrastructure Upgrades for Residents through improvements to the Rural Energy Savings Program (RESP)  

 
The Rural Energy Savings Act

would codify eligible uses, as included in FY 2018-2021 Appropriations language, and reduce administrative burdens for RECs, encouraging increased participation in the program

 
Supporting robust Investment in Rural Communities to Support Capacity Building and Locally-led Economic Development 

 

Supporting Food Co-ops and Producers Through a Strong Nutrition Title 

 

Bridging The Digital Divide by Expanding Broadband through Electric Cooperatives 

 
Supporting International Development
Cooperatives work in international development and are key stakeholders of the Global Food Security Act. 

 
NCBA CLUSA

works globally

to build resilient communities, create economic opportunities, and strengthen cooperatives. Through USAID-administered programs like Feed the Future, Farmer-to-Farmer, and the Cooperative Development Program, along with USDA's Food for Peace and Food for Progress, co-ops are empowering people to build shared prosperity and well-being while improving our national security. 

 

As Congress reviews these programs, it should direct new resources toward co-ops to support international development, a time-tested approach that ensures ownership, control, and benefits stay in local communities.

 
Honoring Congressional Intent by Fully Implementing 2018 Main Street Employee Ownership Act
As a generation of baby boomer small business owners nears retirement, half of the nation's small businesses are at risk of buyout or closure. 

 

These businesses could convert to worker or consumer-owned cooperatives—a model that promotes local ownership and preserves the small businesses at the heart of local economies. 

 

To assist with conversion to cooperatives, the Small Business Administration (SBA) should fully implement the spirit of the

2018 Main Street Employee Ownership Act

by removing and proposing alternatives to its

personal guarantee requirement

to ensure co-ops can access this critical financing.

 
Grassroots advocacy is a critical component of ensuring elected officials understand the most pressing issues impacting cooperatives. There are no better advocates for cooperatives than the member-owners doing the work within their communities. Hike the Hill allowed congressional offices to hear directly from their co-op constituents about the challenges cooperatives face, the benefits cooperatives bring to their communities, and how legislators can work with NCBA CLUSA to craft policy that promotes the development of cooperatives in the U.S. and internationally.  
Our members' education left its footprint on the Hill and across many congressional offices. The work of these cooperators will pay dividends as NCBA CLUSA continues to advocate for cooperative priorities throughout the end of the year and into the future.  
NCBA CLUSA's advocacy team encourages members and co-ops across the country to engage with the members of Congress, Senators, state legislators, and local policymakers, including inviting them to your co-op. Members can reach out to advocacy@ncba.coop with any questions about how you can become a co-op advocate at the federal, state, or local policy level.