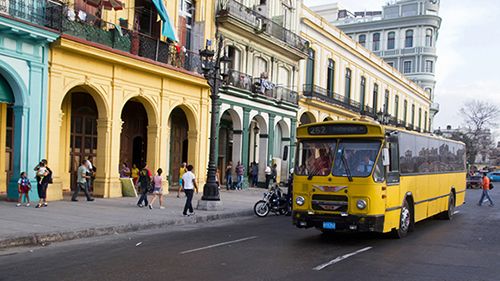 United States President Barack Obama announced plans Wednesday to normalize diplomatic ties with Cuba, marking a historic shift in U.S.-Cuban relations.
The December 17 announcement is expected to ease travel to Cuba and increase business conducted between the two nations. In light of these proposed changes, the U.S. cooperative movement is positioned to support Cuba's emerging co-op sector.
The move comes as Cuba pursues updates in an effort to strengthen its economy, which have included bolstering the role of existing cooperatives and allowing space for the formation of new cooperatives. In recent years, the Cuban government has begun inducing state-owned farms and business enterprises into cooperatives.
"NCBA CLUSA has already started working to develop relationships with cooperative businesses in Cuba. The cooperative model is internationally recognized as a center for democratic participation, member-owned business promotion and economic development," said Michael Beall, NCBA CLUSA president and CEO.
"We look forward to continuing our support of the Cuban cooperative sector as it grows and evolves," Beall added.
In July, NCBA CLUSA led a U.S. State Department-approved research and education trip to Cuba to gain a clearer picture of the cooperative movement there, which observers say is playing an increasingly significant role in the country's push for economic reform.
The U.S – Cuba Cooperative Working Group, composed of more than a dozen representatives from the agriculture, finance, housing, energy, worker and purchasing sectors, conducted site visits, met with local partners and performed an initial needs assessment.
Beall and Amy Coughenour, NCBA CLUSA COO for International Development, represented NCBA CLUSA on the trip, along with Stanley Kuehn, NCBA CLUSA regional director for Latin America.
"Cooperatives create jobs, stimulate the economy and address both economic and social needs across economic sectors, such as agriculture, housing, finance and productive sectors. NCBA CLUSA is ready to leverage its 60 years of experience and that of its cooperative members and partners to support and strengthen cooperative business in Cuba," Coughenour said.
A report compiled after the trip made the following recommendations for next steps to support Cuba's co-op sector:
• Facilitate technical exchanges and assistance from U.S. and international cooperative businesses to support Cuban cooperatives and the business sectors in which they work.
• Share international best practices in strong legislative-enabling environments, governance and principles for cooperative business growth and development.
• Partner with other U.S. constituencies, businesses and organizations interested in improved relations through collaboration with the Cuban cooperative business sector.
• Work with international cooperative networks and partners, such as the International Cooperative Alliance, the worldwide worker cooperative movement, Cooperatives of the Americas and other organizations promoting cooperative solutions to economic development, trade and job creation.
• Share the work of the U.S -Cuba Cooperative Working Group more broadly.
Click here to read the full report.