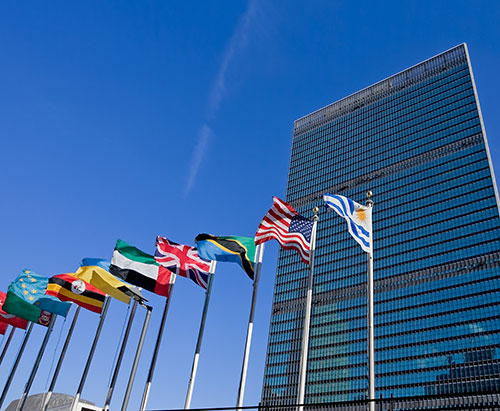 NCBA CLUSA President and CEO Mike Beall will join other representatives from the cooperative sector on Thursday, July 10 at United Nations headquarters in New York City for a panel discussion on the impact of cooperative development on sustainability.
The discussion falls during the week the international community celebrates the UN International Day of Cooperatives, observed this year on July 7.
The panel, "Cooperative Enterprises Achieve Sustainable Development for All," is expected to explore the contributions of cooperatives to sustainable development, analyze the cooperative advantage, and outline how cooperatives can contribute to the post-2015 development agenda by formulating, promoting and implementing Sustainable Development Goals.
"This is a great opportunity to highlight the impact cooperatives continue to have on sustainable development around the world," Beall said. "NCBA CLUSA works diligently to advocate on the behalf of this business model, with first-hand knowledge of the difference cooperatives make in the lives of families and their communities."
Cooperatives are present in nearly every sector and world region, but are "especially prevalent in sectors critical to achieving sustainability," where they foster social stability, spur innovation and facilitate more equitable income distribution, the Committee for the Promotion and Advancement of Cooperatives (COPAC) said in a panel summary. COPAC is comprised of the cooperative movement and the United Nations and its agencies.
"Cooperative enterprises put social justice and equity at the heart of economic progress," COPAC said.
The panel will meet on Thursday, July 10, from 10 a.m. to 1 p.m. in Conference Room 3 of the UN's Conference Building. Look for a full report in the July 15 edition of CBJonline.
Watch a live stream of the panel here: http://webtv.un.org.
Panelists include:
• Representative, permanent Mission of Mongolia to the United Nations
• Daniela Bas, director, Division for Social Policy and Development (DSPD), United Nations Department of Economic and Social Affairs (UNDESA)
• Representative, Food and Agriculture Organization (FAO)
• Wenyan Yang, chief, Social Perspective on Development Branch (SPDB), UNDESA-DSPD
• Vinicius Pinheiro, deputy director, International Labour Organization (ILO), New York Office
• Elizabeth Phillipe, manager of Corporate Communications, United Nations Federal Credit Union (UNFCU)
• Kevin Cassidy, Communications and External Relations, ILO, New York Office
• Rodrigo Gouveia, director of Policy, International Co-operative Alliance (ICA)
• Mike Beall, CEO, National Cooperative Business Association, CLUSA International (NCBA CLUSA)
• Ed Potter, executive director, International Cooperative and Mutual Insurance Federation (ICMIF), Americas