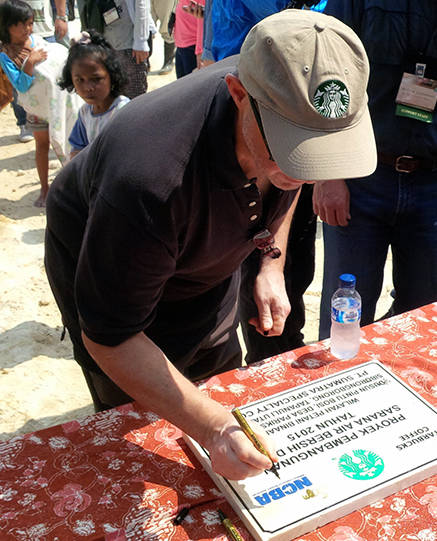 NCBA CLUSA is the recipient of a $750,000 grant from Starbucks Foundation to support coffee farmer livelihoods by providing clean, abundant and accessible water to 25,000 people in 90 Arabica coffee-producing villages in Sumatra, Indonesia.
The three-year project, called Cooperative Water and Sanitation for Health (CoopWASH), will install gravity-fed and deep-well water systems that are expected to provide new sources of water for 80 percent of community members and reduce the workload of women and girls by 75 percent.
"This project goes a long way toward ensuring clean, safe water sources for coffee growers, their families and their communities in Sumatra," said Amy Coughenour, NCBA CLUSA COO for International Development. "This ready access to water means women will spend less time transporting water and more time providing for their families."
Already, NCBA CLUSA and its local implementation partners, including the Baitul Qiradh Baburrayyan Cooperative and Sumatra Specialty Coffee, have completed six of the water installations funded by the grant—three each in the Indonesian provinces of North Sumatra and Aceh. The three installations in North Sumatra opened for use last week, said Sam Filiaci, NCBA CLUSA regional director for Southeast Asia.
To embed sustainability into the project, NCBA CLUSA is also developing village water management committees and providing community education on good water use and hygiene practices. Water projects often fail because communities are technically or financially unequipped to maintain complex infrastructure, but the only ongoing maintenance CoopWASH systems require—detailed in a community water management plan—is cleaning the spigots and ensuring good drainage to avoid standing water.
Despite an abundance of surface and ground water in the Sumatran highlands, close to half of the population accesses drinking water from unsafe sources, resulting in a high prevalence of water-borne diseases, such as diarrhea and cholera. According to the government's Ministry of Health, some 30 percent of Indonesians suffer from water-borne disease every year. The shortage of safe water also impacts women and girls, who are often tasked to collect and carry water long distances.
Lack of accessible, clean water also compromises coffee quality in Indonesia. Much of the coffee grown in Sumatra is pulped at the village level and sold in a "wet hulled" state. Farmers who don't have access to clean water recycle the water they need for pulping, leading to bacterial contamination of the hulled coffee and off-flavors.
CoopWASH will significantly increase the amount of household water available for drinking, cooking, hand- and dishwashing, sanitation and coffee pulping. The project will also provide health clinics and schools in the region with clean water sources.
This grant is part of Starbucks comprehensive approach to ethical sourcing. To date, Starbucks has contributed $15 million in social projects to support farming communities around the world. In 2014, the Starbucks Foundation granted more than $3.7 million to multiple organizations who help address relevant needs in specific communities. Each investment is targeted to create a sustained impact in a local community developing the necessary infrastructure to help support systemic, long-term change.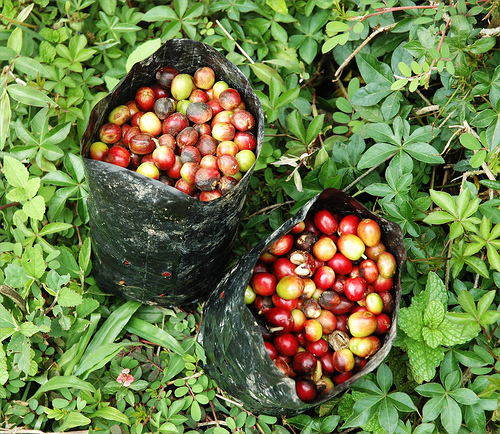 Starbucks commitment to ethical sourcing
Over the past 40 years, Starbucks has been dedicated to helping improve the lives of farmers and their families around the world who grow their coffee. Through a comprehensive approach to ethical sourcing, Starbucks is paying equitable prices, providing access to farmer loans and technical assistance to help farmers navigate the complexities of agriculture—a long-term process. In total, Starbucks has invested more than $70 million in collaborative farmer programs and activities over the past 40 years. In 2015, Starbucks will achieve the goal of 99 percent of its coffee being verified as ethically sourced. Additional details about Starbucks initiatives in coffee and tea communities are available at Starbucks.com/Responsibility/sourcing.
About NCBA CLUSA
NCBA CLUSA has been active in Southeast Asia since 1976, when the organization opened an office in Indonesia at the request of the country's president and the Indonesian cooperative movement. Since then, NCBA CLUSA has used cooperatives to drive job creation and an increase in producer income, market viability and sales. Between 2005 and 2010, NCBA CLUSA helped rehabilitate thousands of farms destroyed by the 2004 Sumatra-Andaman earthquake and tsunami. NCBA CLUSA, Cooperative Business International (CBI), the Baitul Qiradh Baburrayyan Cooperative and the cohort's coffee customers, among them Starbucks, also rebuilt dozens of rural water collection and distribution systems after the earthquake.
NCBA CLUSA began working with Starbucks in 1994, starting in East Timor and expanding to Sulawesi in 1997 and Sumatra in 1999, Filiaci said.
"NCBA CLUSA, CBI and their assisted cooperative groups are together now one of Starbucks' major suppliers worldwide, providing massive benefits to coffee cooperatives and their small farmer membership," he added.