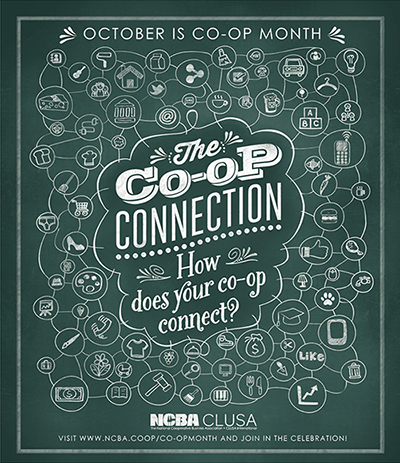 The National Cooperative Business Association invites you to participate in this year's Co-op Month by recognizing "The Co-op Connection" to the world around us. We hope you'll join us in celebrating the cooperative difference, our proud cooperative heritage and all the ways we connect with each other, our communities and our world.
Since 1930, co-ops across the United States have convened every October to celebrate the cooperative movement's history and economic impact on communities nationwide. The annual event continues to provide a key opportunity to reflect on the cooperative legacy.
Co-ops range in size from small storefronts to large Fortune 500 companies like REI and Nationwide Insurance. Co-ops mean business. They provide a viable alternative to the traditional business model for more than 130 million members across the U.S.
Co-ops also mean connections. They strengthen ties with members through education and networking opportunities. They connect with other cooperatives by practicing Cooperative Principle #6, or "cooperation among cooperatives." Co-ops connect with policymakers through advocacy, and with young people through engagement. Through sustainable development, co-ops connect with their communities and help build a better future.
We're thrilled to work together with the cooperative community in the coming months to energize our co-op connections and help generate the awareness and recognition the cooperative movement deserves. Together, we can strengthen our co-op connections and build new ones.
We hope the 2014 Co-op Month Communication Toolkit helps you advance this shared goal. The toolkit includes:
• Print-ready posters
• Sharable social media graphics
• Sample social media posts
• Sample email invite (pdf)
• Sample media release (pdf)
• Ideas for celebrating Co-op Month
Use or adapt these sample documents to start planning your own co-op month celebration!