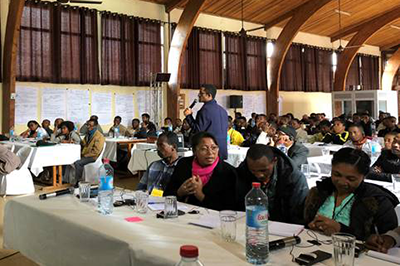 NCBA CLUSA's International Program is structured around three practice areas: Building Resilient Communities, Creating Economic Opportunities, and Strengthening Cooperatives and Producer Organizations. While NCBA CLUSA members may be more familiar with the trade association's mission to promote, advance and protect cooperative enterprise in the U.S., the organization has been actively engaged in international cooperative development for more than 65 years.
NCBA CLUSA's Co-op Practice is excited for the opportunities that lay ahead in 2020. Between continuing implementation of NCBA CLUSA's U.S. Agency for International Development (USAID)-funded Cooperative Development Program (CDP) in Kenya, Tanzania, Madagascar, Peru and Guatemala; starting up USAID-funded Farmer-to-Farmer (F2F) volunteer assignments in Peru, Ecuador and Cambodia focused on the coffee, cacao and horticulture value chains and cooperative development; continuing to work with vanilla and other spice cooperatives in Madagascar and Indonesia; closing the Youth Empowerment Through Agriculture (YETA) project in Uganda; and providing technical assistance to NCBA CLUSA's other projects that involve cooperatives and other farmers organizations, the Co-op Practice supports a wide-ranging portfolio.
Throughout 2020, we're focusing on three major themes in our work:
Enabling Environments
For cooperative development efforts to be successful and maximize the ability of cooperative businesses to benefit their members, they need to function within a legal framework that enables them to thrive. Given the variety of legal challenges that cooperatives face around the world, a major component of NCBA CLUSA's USAID CDP project—Creating an Environment for Cooperative Expansion (CECE)—is the promotion of an enabling legal and regulatory framework for cooperatives.
In all five countries where the project operates, NCBA CLUSA has conducted a cooperative law analysis using the CLARITY tool and engaged cooperative stakeholders to share analysis findings. Based on stakeholder demand for these analyses and the law revision processes that are currently underway in many of these countries, NCBA CLUSA's CDP project and Co-op Practice have plans to document best practices and lessons learned for legal and regulatory reform activities and are in discussions with the U.S. Overseas Cooperative Development Council (OCDC) to make improvements to the CLARITY legal and regulatory initiative toolkit, including the cooperative law analysis tool.
Cooperative Governance
The Co-op Practice also understands that cooperatives and other farmer groups cannot sustainably improve their business performance without cultivating good governance. This is why NCBA CLUSA's projects providing technical assistance to cooperatives, such as the CDP and F2F projects, emphasize improving good governance through practices, policies and member engagement. The CDP project is developing tailored coaching plans to guide coaching activities with 60 cooperatives and cooperative unions in Kenya, Tanzania, Madagascar and Peru, all of which will include a central governance component. For F2F, some volunteer assignments will focus on organizational capacity building and governance—not just improving on-farm production and post-harvest handling practices.
The Co-op practice will document our efforts and experiences to improve the work in this critical element of cooperative development. The goal is to develop or improve the tools implementers such as NCBA CLUSA employ around the world.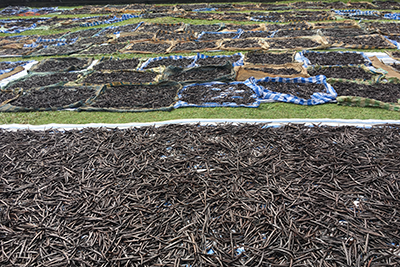 Certifications
When cooperatives are well-governed and well-managed, they are also better able to implement compliance standards and achieve (and maintain) certification for their crops—whether it be USDA organic, FairTrade, Rainforest Alliance, or any other type of certification. NCBA CLUSA has supported certification work with cooperatives through public-private partnerships for many years, particularly with coffee and spice cooperatives in Indonesia and East Timor, and vanilla cooperatives in Madagascar.
The premiums that cooperatives and farmers receive for their higher quality, certified crops not only put more money in farmers' pockets but also get reinvested in the cooperatives to improve business performance and fund social programs that benefit cooperative members and their communities. Some certification standards such as Rainforest Alliance (RA) can also positively impact biodiversity conservation and sustainability of landscapes.
RA certification for vanilla cooperatives is a major activity implemented by NCBA CLUSA on the five-year USAID-funded Mikajy Biodiversity Activity in Madagascar, led by TetraTech. Certification is also a central component of NCBA CLUSA's new U.S. Department of Agriculture (USDA)-funded Indonesia Spice Trade Alliance project designed to improve productivity and production, enhance quality and compliance with international regulations and standards, and expand global trade in spices to meet growing consumer demand worldwide while improving spice farmers' resilience to climate change.
RA certification and other certifications such as Starbucks also take into consideration child and fair labor practices. There are many different types of certifications, and annual renewal is time intensive and costs money. This can be daunting and confusing for co-ops and farmers. NCBA CLUSA wants to document our experiences to contribute to the dialogue around the need for certifications and improve the understanding of their benefits and which ones are best for co-ops and their farmers in different contexts.
Stay tuned as Co-op Weekly highlights impact stories, announcements of events, and major accomplishments from the Co-op Practice throughout the year. And look for an article on the CLARITY initiative in the Spring 2020 issue of the Cooperative Business Journal!
—For more information on NCBA CLUSA's Co-op Practice, please reach out to Matthew Buzby at mbuzby@ncba.coop.