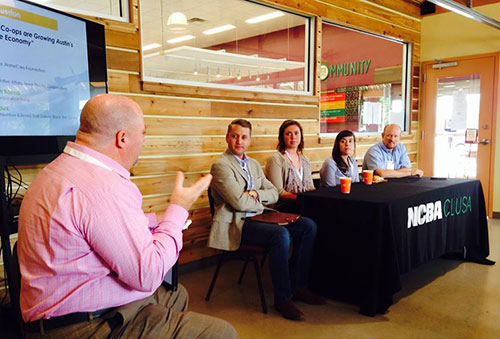 Held at the newly-built Wheatsville Food Co-op just outside the city of Austin, Texas, NCBA CLUSA's Co-op Talks convened more than 30 participants in an intimate discussion on cross-sector collaboration and the effect cooperatives have on Austin's local economy.
Based on principle six (cooperation among cooperatives) of the seven cooperative principles, this event marks the third convening in the newly produced Co-op Talk series, which aims to build local cooperative cross-sector collaboration and discussion that strengthens and supports cooperative engagement.
The keynote, "The importance of Cross-Sector Collaboration between Credit Unions and Other Cooperatives" was presented by Courtney Moran, Executive director of the Cornerstone Credit Union Foundation. The 45-minute talk was highly interactive with participants listening, sharing and finding ways to apply the principles that were discussed.
Following the address, local leaders including Charlie Agar, executive director of HomeCare Foundation; Evan Autry, director of Legislative Affairs for Texas Electric Cooperatives; and Nicole Renaux, business team member and board staff liaison for Black Star Co-op, were led by NCBA CLUSA President and CEO Mike Beall through a discussion of the role of cooperatives in Austin's economy and opportunities for new and continued cross-sector collaboration.
Attendees were also treated to a sneak peek at the beta version of an all new mobile app being developed by NCBA CLUSA specifically designed to serve the cooperative community across the nation. The app is focused on the user experience and elements they find important in a mobile app. Participants were impressed with the progress made on the app and were excited by the possibilities this app will open. Look for more information on the mobile app and its launch in the coming months.
At the end of the event, participants enjoyed a specially catered lunch provided by host and sponsor, Wheatsville Food Co-op.
More opportunities to participate in future Co-op Talks are coming soon. Visit ncbaclusa.coop to find out when the Co-op Talk series will be convening cooperators in a town near you!