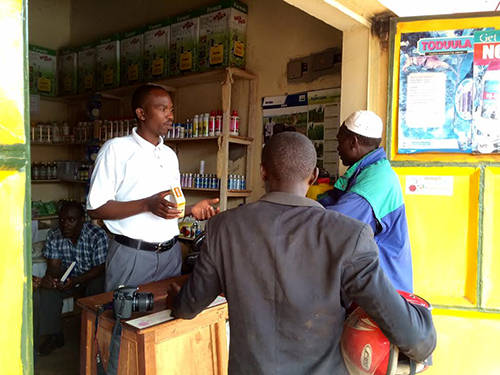 An agreement signed last week by new funder MasterCard Foundation formally awards NCBA CLUSA an $11.3 million project to facilitate sustainable economic opportunities and commercial enterprises for at-risk youth in northern Uganda.
Youth Empowerment Through Agriculture (YETA) hinges on NCBA CLUSA's "Learn, Engage, Build" model designed to create long-term engagement by integrating numeracy, literacy and life skills with technical expertise in agriculture, business, entrepreneurship and management.
Specifically, YETA will establish and strengthen youth associations (YAs), bolster the wellbeing and confidence of YA members through core skills, increase member access to financial services and instill the technical and entrepreneurial proficiency critical to launching a business.
Youth who participate in the program will learn concepts they can relate to everyday life (Learn), apply those concepts under a mentor's guidance (Engage) and receive support and encouragement to experiment on their own (Build).
"Our partnership with MasterCard Foundation is a tremendous opportunity for us to integrate more youth into our extensive network of cooperatives and associations, allowing them a safe space to explore their own entrepreneurship goals that ultimately benefit rural communities at large," said Gretchen Villegas, vice president of International Operations for NCBA CLUSA.
YETA builds on the success of the Uganda Conservation Farming Initiative, an $8.4 million U.S. Department of Agriculture-funded project in northern Uganda that has generated substantial economic gains for more than 60,000 smallholder farmers, while restoring soil fertility and environmental health through conservation farming—applying the principles of minimum soil disturbance, organic soil cover and crop rotation.
The new project will draw on NCBA CLUSA's existing network of Area Cooperative Enterprises, producer organizations and youth associations in northern Uganda as an entry point to train, mentor and provide employment opportunities for more than 26,000 at-risk and unemployed/underemployed youth in the districts of Dokolo, Kiryandongo, Kole and Masindi.
Ugandan youth, many of whom grew up in Internally Displaced Person camps during an insurgency by Joseph Kony and the Lord's Resistance Army, were denied the benefit of a strong education, job experience or financial literacy and are often viewed as a threat to the region's current peace and security.
The country has the youngest population in the world and the highest youth unemployment rate in sub-Saharan Africa. Seventy percent of Ugandan young people live on less than $2 a day.
YETA takes into account these and other challenges northern Uganda is emerging from after decades of conflict. By the project's end in 2020, YETA is expected to have benefited a total of 100,000 youth and their families.
YETA's consortium—NCBA CLUSA, Youth Alive, Reproductive Health Uganda, Making Cents, Aflatoun, FINCA, Finance Trust Bank and Centenary—have 142 years of combined experience in Uganda to guide their work.
(September 18, 2015)