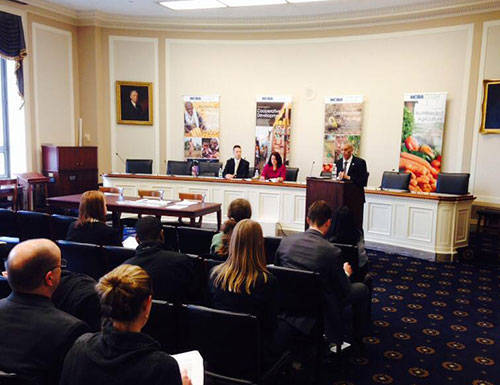 (December 10, 2014)
Two days ahead of a potential vote in the U.S. House of Representatives on the Feed the Future Global Food Security Act (H.R. 5656), the House Committee on Foreign Affairs hosted NCBA CLUSA's briefing on food security at the Rayburn House Office Building in Washington, D.C., to rally support for the act, which faces obstacles in the Senate.
Speaking at the event were Rep. Chris Smith (R-NJ), bill sponsor and a senior member of the House Foreign Affairs Committee, and Richard Greene, Senior Deputy Assistant to the Administrator of USAID's Bureau for Food Security, who called NCBA CLUSA's development work a "model" for sustainable intervention.
During his remarks, Rep. Smith applauded NCBA CLUSA's contributions to food security and nutrition, saying, "The work that you're doing here is transformational, and I want to thank you."
In 2010, NCBA CLUSA began implementing Yaajeende, one of the first USAID-funded Feed the Future projects. The organization remains a major implementer of Feed the Future, the Obama administration's flagship initiative to maximize the impact and sustainability of U.S. government and taxpayer investments to end global hunger.
Greene explained the unique nature of the program and why supporters believe it merits codification. Feed the Future, he said, is comprehensive; requires leadership commitments from the 19 recipient governments; offers a whole-of-government approach to food security; prioritizes women's empowerment; promotes crucial public-private sector partnerships; involves U.S. universities in research, innovation and capacity-building; and places a high value on accountability.
Perhaps most important, Feed the Future is also the first presidential initiative and the first initiative of its size to elevate the role of nutrition to a major indicator, Greene said.
"Nutrition has been an underfunded component of health," he said. "This is why I like the Yaajeende project implemented by NCBA CLUSA, which I visited about a year ago. This is truly the type of nutrition-sensitive food security project that really is a model for us. It demonstrates a way of development, because it involves not only horticulture, but also protein sources—the raising of goats and poultry—places an emphasis on water, hygiene and sanitation; promotes markets; and involves women in every aspect."
NCBA CLUSA COO for International Development, Amy Coughenour, offered details from the Yaajeende project and explained why NCBA CLUSA prefers the term "nutrition-led agriculture."
"We're looking at nutritional deficiencies in a region and then creating a food system that addresses them—not only at the smallholder household level, but all the way up to the government policy and research level," Coughenour said. "A lot of existing food systems are really set up to address economic growth, but nutrition is really driving every single one of our interventions."
Food systems designed to spur a country's economy often rely on staple crops rather than nutrient-dense horticulture crops, she said. In contrast, nutrition-led agriculture focuses not just on producing more food or even increasing access to that food, but on the consumption of healthy, nutritious food at the smallholder household level, measuring food intake, access to potable water, and appropriate hygiene and sanitation to ensure optimum absorption of nutrients.
For the Yaajeende project, Coughenour said, NCBA CLUSA tested more than 40 new varieties of bio-fortified crops. Those with the highest nutrition levels and success rates in terms of production and marketing in Senegal were integrated into the project—among them orange-flesh sweet potatoes, which are addressing Vitamin A deficiencies in the country.
"That's why we're so supportive of initiatives like H.R. 5656, which seek to formally authorize Feed the Future on a more permanent basis, because we see what's happening on the ground and we know that this project works," Coughenour said.
Organizing smallholder farmers into producer organizations and cooperatives is another crucial component of NCBA CLUSA's interventions, she added. "This is the mechanism through which smallholders can come together to secure better pricing, better access, better training, and better leverage with the private sector."
The Feed the Future Global Food Security Act supporters Smith and Rep. Betty McCollum (D-MN) are expected to move the bill to the House floor on December 10, where a vote could occur under a suspension of rules, said Alan Knapp, NCBA CLUSA vice president for Advocacy.
"People say bipartisanship is dead," Smith said. "It is not. There are many of us who work across the aisle and do so as robustly and aggressively as we can for important, and what I believe to be very noble ends, as do you. That's why you're here."
"The bill has an uncertain fate in the U.S. Senate, but I'm very hopeful that things can come together," Smith said. "If not, we'll be right back next year and we will get this passed into law with your help."