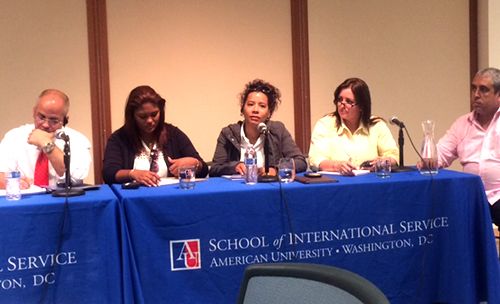 NCBA CLUSA's U.S. – Cuba Cooperative Working Group (USCCWG) hosted a delegation of five Cubans from Cuba's emerging cooperative sector last week as part of Co-op Week. The delegation participated in the 2015 Annual Cooperatives Conference and other Co-op Week events, met with members of Congress and their U.S. cooperative counterparts, toured local co-ops and spoke on a panel at American University.
The May 4 panel discussion, called "Cooperatives in Cuba: Foundation for a Stronger Economy," explored the quickly-evolving cooperative landscape in Cuba and highlighted the experiences of Cuban cooperators representing various sectors. In addition to the Cuban cooperators, the panel also included Amy Coughenour, NCBA CLUSA's COO of International Development, and Eric Leenson, president of SOL² Economics and co-founder of the USCCWG.
The panel opened with Coughenour and Leenson providing context on the cooperative sectors in the U.S. and Cuba. Agricultural cooperatives have a rich history in Cuba, dating back to the country's early revolutionary years. While the agricultural sector provides income for 600,000 – 700,000 people in Cuba, non-agricultural cooperatives have only been allowed to form since 2012, Leenson said. The conversion of state-run businesses into cooperatives could result in 20 – 30 percent of Cuba's workers being actively involved in cooperatives, Leenson added. Cooperatives are central to Cuba's economic reform plans, and they are given preferential treatment over individual businesses because of the social benefits that characterize the cooperative business model.
It is against this backdrop that the USCCWG—representing the U.S. cooperative sector and its more than 40,000 co-ops—is uniquely positioned to support the development and strengthening of Cuba's cooperatives and the establishment of mutual learning platforms for U.S. and Cuban cooperative counterparts. "Our goal is not to sell things to Cuba," Coughenour said, "but to open dialogue and conversation with our peers in Cuba and find ways to collaborate to strengthen the cooperative movements in both countries."
As Delegate Luis Dueñas Casal, president of SCENIUS, a financial and economic consulting services cooperative in Cuba, stressed, cooperatives won't become successful overnight just because a law has legalized them. "The biggest challenge," Dueñas Casal said, "is to provide workers with training so that the cooperatives can become sustainable." As his fellow member-owner and SCENIUS General Manager Alfonso Valentín Larrea Barroso, also a delegate, explained, "with the government withdrawing from the management of state-owned businesses and handing over the reins of the newly-formed cooperatives to the members, the workers must now learn how to become member-owners and business managers." It's no surprise, then, that SCENIUS, which started with just three members when it formed in October 2014, has already grown to 62 members.
In addition to the need for training, other challenges faced by Cuba's nascent cooperative sector include the lack of access to supplies, inputs and technology. Delegate Nancy Varela Medina, president of a clothing manufacturing cooperative, said she wishes she could buy a wider variety of fabrics. Delegate Lumirt de la Cruz Arocha, president of an agricultural cooperative, said her co-op is unable to meet demand because it can't access the technology and agricultural inputs needed to increase production. Furthermore, poor transportation infrastructure limits where Cuban co-ops can sell their products.
Despite the numerous obstacles to creating a thriving cooperative sector in Cuba, the Cuban panelists agreed that their newfound ownership has translated into tremendous motivation to succeed. As member-owners of their cooperatives, they have the freedom to shape their businesses in ways that benefit the members, they said.
When asked how the cooperative model has impacted their income thus far, Delegate Osmaglis Savigne, vice president of a farmer's market co-op in Havana, said this new way of doing business has increased her income six-fold. The money she earns is no longer set by the government but determined by the success of the cooperative of which she is a worker-owner.
Cooperatives create positive economic and social impacts around the world, and now Cuba's workers are beginning to experience these advantages in tangible ways, the panel said. Big challenges lay ahead, but, as evidenced by the panelists, Cuban cooperators are committed to building a stronger economy and workforce through the cooperative business model.