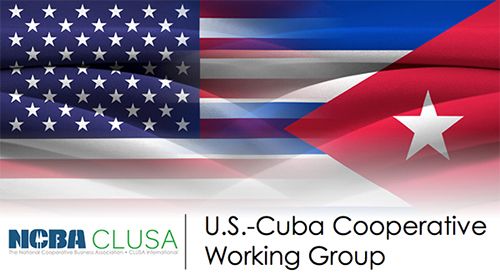 American University's School of International Service's Global Environmental Politics program will host NCBA CLUSA's U.S. – Cuba Cooperative Working Group for a panel discussion on the cooperative movement in both countries on Monday, May 4, in Washington, D.C.
The brown-bag lunch discussion is open to the public and scheduled for noon to 2 p.m. in the Abramson Family Founders Room of the School of International Services building. The event will be held in English and Spanish, with translation provided. Light refreshments will be served.
Speakers include Amy Coughenhour, NCBA CLUSA COO for International Development; Eric Leenson, president of Sol 2 Economics; and Cuban cooperators representing various industry sectors.
The Cuban guests are Alfonso Valentín Larrea Barroso and Luis Alberto Dueñas Casal, commercial director and president, respectively, of a Cuban financial consulting group serving cooperatives; Lumirt de la Cruz Arocha, president of an agriculture cooperative and Cuba's most prominent woman in agricultural co-op management; Nancy Varela Medina, president of a clothing manufacture cooperative; and Osmaglis Savineg Martinez, vice president of an agricultural co-op that helped establish Cuba's first non-agricultural cooperatives.
For additional details, email Garrett Graddy-Lovelace at graddy@american.edu. Graddy-Lovelace, who will open the discussion, is a PhD Assistant Professor in American University's Global Environmental Politics Department and an expert on Cuban cooperatives.
American University's School of International Service focuses on international politics, communication, development and economic relations; peace and conflict resolution; global environmental politics; and U.S. foreign policy. American University has a longstanding relationship with the University of Havana in Cuba.
NCBA CLUSA's U.S. – Cuba Cooperative Working Group (USCCWG) was established in 2014 with a mission to build a stronger and more vibrant cooperative movement in the U.S. and Cuba. In early March, NCBA CLUSA formally launched the USCCWG and released a report on the emerging role co-ops are playing in Cuba's economic reform based on findings from a research and education trip to Cuba in July 2014.