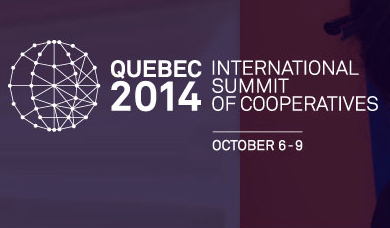 Registration is now open for NCBA CLUSA's afternoon working group during the 2014 International Summit of Cooperatives, returning to Quebec City next month.
Called "Designing a Cooperative Future Among U.S. Cooperatives," the trade association and international development organization's working group is scheduled for Monday, October 6 from 1 to 4 p.m. Participants can expect to collaborate across cooperative sectors to explore the opportunities and challenges "The Blueprint for a Cooperative Decade" presents the U.S. cooperative movement.
The Blueprint envisions that by 2020, cooperatives will be the acknowledged economic leader, the preferred business model and the fastest-growing enterprise worldwide.
Already, International Cooperative Alliance member organizations represent 1 billion people in 100 countries, but co-op leaders say continued growth and sustainability hinges on a thoughtful look at the way cooperatives are promoted, governed and funded in order to cement their reach, influence and reputation.
Specifically, working group participants will:
• Discuss how co-ops in the U.S. can serve as architects for the Blueprint's adoption worldwide
• Learn from peers and industry leaders how the Blueprint can put U.S. co-ops on the map
• Formulate structures, strategies and next steps for moving forward
Click here to register. This working group is open to everyone.
On October 9 at 11:15 a.m., NCBA CLUSA COO for International Development Amy Coughenour will join fellow panelists for Forum 19, "Family Farming: A Food Security Solution." The discussion will explore how smallholder farmers are securing sustainable development during a year the UN has named "International Year of Family Farming."
NCBA CLUSA will also staff a booth in the exhibit space at the Summit. Be sure to stop by Booth #701 to learn about how we're promoting the Blueprint in the U.S., and spend some time collaborating and convening—our comfy chairs are a great place to network!
The International Summit of Cooperatives' mission is to identify core business challenges facing cooperative enterprises and provide them with solutions to encourage their development and improve their performance, while promoting the benefits of the cooperative business model on the world stage.
This year's Summit is expected to shed new light on the innovative capacity of the cooperative business model, its ability to adapt to and thrive in different economies, and its growing role in tackling some of the biggest challenges faced by society, including food security, health services and job creation.