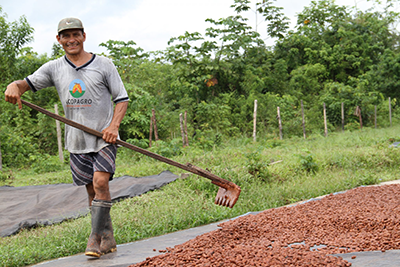 Cooperative grocers in the U.S. are backing a carbon-offsetting program that supports farmers pursuing conservation, reforestation and agroforestry in the Peruvian Amazon.
In 2018 National Co+op Grocers, a business services cooperative for retail food co-ops, funded the planting or conservation of more than 70,000 trees in the San Martin region of Peru. The area was heavily deforested in the 1980s due to cocoa production. NCG represents 145 food co-ops operating over 200 stores in 37 states with combined annual sales over US $2.1bn and over 1.3m consumer-owners.
The initiative was designed to offset 1,197 tons of carbon dioxide emissions associated with NCG's 2017 business travel and utilities. NCG has been contributing to the program for six years, which is run by PUR Projet in partnership with cocoa co-ops in and around San Martin.
Through this program, NCG's offsets have facilitated the planting or protection of nearly two million trees in the Amazon.
"NCG is grateful to partner with PUR Projet and the fair trade, organic farmer cooperatives that plant and protect Co+op Forest," said Allie Mentzer, NCG's advocacy senior manager.
"Tropical rainforests are widely recognized as one of the most important natural resources we have when it comes to reversing climate change. We love that Co+op Forest empowers farmers to put real climate solutions into place."
As part of the program, 377 timber trees were purchased for Finca a la Media, a farmer-led agroforestry project in Peru. These were planted in a manner that mimics forests, with taller trees and undergrowth planted alongside cash crops like coffee and cacao. The offset program enabled the protection of 340 acres of rainforest in the San Martin BioCorridor, a UNESCO Biosphere Reserve. It also allowed for farmers to plant 2,400 trees in a reforestation project called Jubilacion Segura.
"Investing in Co+op Forest is not just about offsetting carbon emissions. While carbon reduction is a key benefit, the program also drives positive social, economic and environmental impacts directly in the communities from which NCG sources some of its fair trade chocolate," said Andrew Nobrega, director of PUR Project for North America.
"This a model for a truly sustainable tropical supply chain that supports both people and the planet. We are grateful for NCG's commitment and hope that it continues to inspire similar programs across global supply chains and agricultural communities."