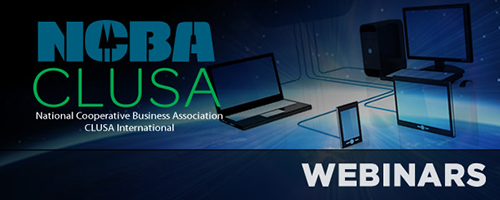 NCBA CLUSA will host a webinar on December 17, 2015, from 1 – 2 p.m. EST, presented by Jim Wright, Vice President of Sales for Corcentric, a provider of cloud-based financial process automation solutions and an NCBA CLUSA Gold-Level Business Sponsor and Associate Member. Click here to register.
Everyone talks about dynamic discounting, but is there a better, more profitable and easier-to-manage way to save your co-op significant dollars while ensuring accuracy and efficiency in your purchase-to-pay processes? During this webinar, you'll learn how to save money upfront instead of chasing pennies later.
The right solution with full connectivity can provide:
• Lower upfront pricing
• Guaranteed contract rates and pricing
• Streamlined invoice approval and payment processes
This will, in turn, help you better manage your cash flow and improve your co-op's bottom line. Register today and join NCBA CLUSA and Corcentric on December 17 to get in on the conversation.
NCBA CLUSA is offering this webinar free of charge.