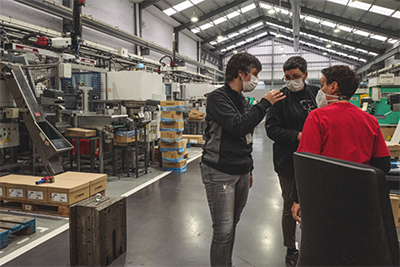 When Joana Ibarretxe Cano's factory closed for all of April 2020, she went home, but didn't lose her job. Instead, she and her coworkers absorbed a 5 percent pay cut and agreed to make up some of their hours when the factory reopened.
"The cooperative system has given us peace of mind," she told New York Times European Economics Correspondent Peter S. Goodman in a December 29 article.
Joana is a production manager at the Erreka Group, part of huge network of cooperatives based in Mondragón, a town in Spain's Basque region. Goodman's article explores why the cooperative business model is uniquely poised to weather economic crises.
"At Mondragón, workers know that, as owners, they stand to benefit from sacrifices that strengthen their businesses," Goodman writes.
The article goes on to note that co-ops are increasingly part of the discussion around how to update capitalism. "In a world grappling with the consequences of widening economic inequality, cooperatives are gaining attention as an intriguing potential alternative to the established mode of global capitalism. They emphasize one defining purpose: protecting workers."
"In a world grappling with the consequences of widening economic inequality, cooperatives are gaining attention as an intriguing potential alternative to the established mode of global capitalism. They emphasize one defining purpose: protecting workers."
Read the full article: https://www.nytimes.com/2020/12/29/business/cooperatives-basque-spain-economy.html