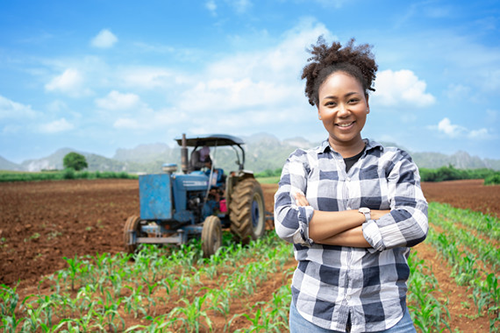 NCBA CLUSA's USDA-funded Strengthening Co-op Capacity for Historically Underserved Farmers project is sharing a new roundup of news, funding opportunities, and upcoming events and trainings.
Learn more about the project   Join the Advisory Group
News
Broadening Public Engagement in the Federal Regulatory Process
Interested members of the public can submit their feedback to publicparticipation@omb.eop.gov as written feedback or recorded audio and video submissions. The Office of Information and Regulatory Affairs (OIRA) will be actively reviewing any submissions received through 5 PM EST on March 10, 2023. Learn more
USDA Expands Hurricane Insurance Protection to Include Certain Tropical Storms
Farmers may now be eligible for further protection against damaging tropical storms. After hearing directly from agricultural producers, the U.S. Department of Agriculture (USDA) is expanding its Hurricane Insurance Protection-Wind Index (HIP-WI) Endorsement with a Tropical Storm Option. USDA's Risk Management Agency (RMA) will offer this option for the 2023 crop year. Learn more
Rolling Out Revenue-Based Disaster and Pandemic Assistance Programs
Agricultural producers can begin to apply for two new important programs for revenue losses, from 2020 and 2021 natural disasters or the COVID-19 pandemic. Learn more
Funding Opportunities
USDA Rural Development
See the latest issue of Innovation Matters: Funding Opportunities, Resources, Events and Learning from USDA Rural Development.
USDA National Institute of Food and Agriculture (NIFA)
Check out these upcoming application deadlines:
Events and Trainings
February 22: Saving Black Land with Cannabis: The Rise of 40 Acre Co-op
February 28: Application deadline for the Strengthening Co-op Capacity for Historically Underserved Farmers curriculum development advisory group
March 1: Cooperative Management Certificate course begins
March. 13-14: Cooperative Council of North Carolina (CCNC)'s Co-op Conference 2023
March 16, 21, 23, 28 and 30: Finance Fundamentals – Financial Analysis for New Cooperatives
March 21: Co-op Cincy's Co-op U
March 22: UW Center for Cooperative's Finance Basics for Directors
June 2-3: 2023 California Co-op Conference