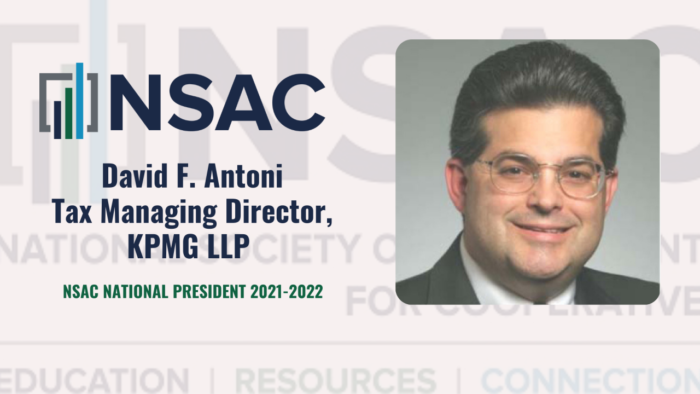 The National Society of Accountants for Cooperatives (NSAC) recently announced that David Antoni, CPA, Tax Managing Director at KPMG LLP, has been named President for the 2021-2022 term.
Founded in 1936, the NSAC is a professional society comprised of approximately 1,500 individual members actively involved with the financial management and planning of cooperative business. The organization provides professionals with education, resources, and connections needed to stay on the cutting edge, and is the only association actively addressing the needs of cooperatives.
As Tax Managing Director at KPMG, David is responsible for providing tax consulting and compliance services in the Consumer & Industrial Markets practice. His professional accounting experience at KPMG spans over 32 years, and he has specialized on serving cooperatives for 28 years. David holds a Bachelor of Science degree in Business Administration from La Salle University in Philadelphia, Pennsylvania, where he concentrated in Accounting and Computer Science, and was a member of the Beta Alpha Accounting Society. David is also an immediate past Chair of the NSAC's National Tax Committee. In addition to the NSAC, David maintains professional membership in the National Council of Farmer Cooperatives, where he serves as current Chair of its Executive Committee, and the American Institute of Certified Public Accountants. David is a frequent speaker concerning cooperative tax issues at annual meetings of the NSAC, and frequently contributes articles to the Society's renowned publication, The Cooperative Accountant.