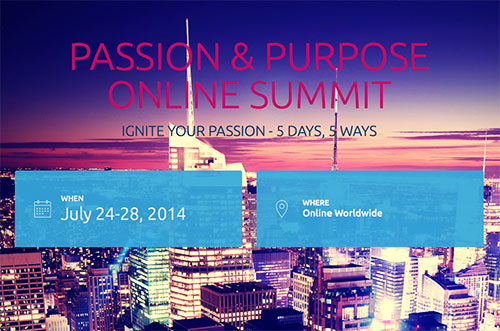 NCBA CLUSA is the non-profit spotlight for the inaugural Passion & Purpose Online Summit, the network announced in a press release over the weekend.
As the event spotlight, NCBA CLUSA joins a select group of individuals, brands and causes that explore, live and share their passion and purpose—both for personal satisfaction and the benefit of broader society, said Bambi Weavil, director of Marketing for the network.
"NCBA CLUSA's global work represents the kind of partnerships Passion & Purpose values," Passion & Purpose founder and CEO Ty Richardson said. "Our members want to live their passion while creating meaning in their life, and that's what NCBA CLUSA's projects offer."
NCBA CLUSA president and CEO Mike Beall, who will speak at the summit on July 28, said the trade association and international development organization is "proud to be a benefitting partner" of the summit.
"This event embodies the core of our mission, and we are excited to be a part of this groundbreaking summit," Beall said.
Called "Ignite Your Passion: 5 Days, 5 Ways," the summit asks speakers to represent themselves and their topic in a way that reflects both the passion and purpose of their brand.
Click here to reserve your tickets!
The summit includes a presentation from 20 experts about a life experience or story that best reflects his or her passions and purpose. Each presenter will close by offering five tangible action items or lessons learned that audience members worldwide can apply in their own lives as they discover, live or share their passion and purpose.
The live summit runs July 24 to 28, with audiences attending worldwide from any computer or tablet equipped with Internet access. Twenty-minute presentations are scheduled for 10 a.m., 1 p.m., 4 p.m. and 8 p.m. EDT each day, with "VIP Sessions"—or in-depth Q&As with each speaker—following each presentation. A webcam is not required to participate.
On-demand recordings of every session will be available for registrants to watch at their convenience for up to a year.
Once you've registered, look for an email from Passion & Purpose with instructions on how to log in to view the schedule and attend any or all of the presentations.
Passion & Purpose is sponsored by EscapeArtist International, and online publishing company, and YoPro Global, a social community of young professionals seeking success in their careers and life. The mission of Passion & Purpose is to create communities of up-and-coming and experienced professionals that intersect to share common interests as they explore their passion and purpose together.