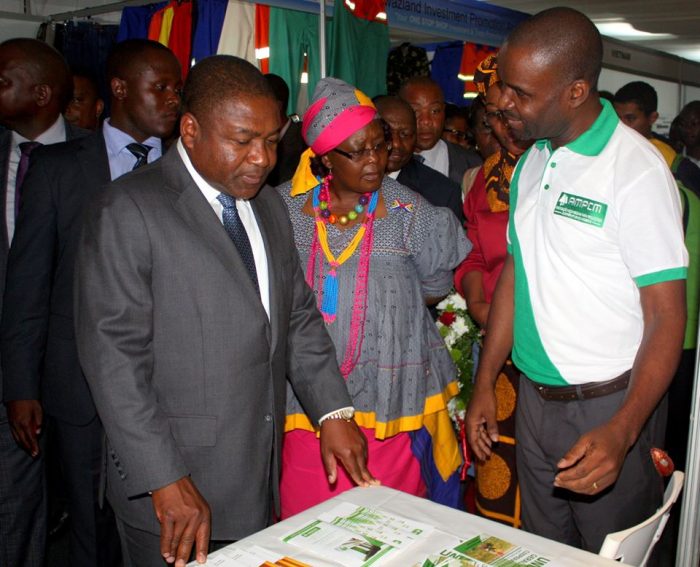 September 22, 2015
Attending Mozambique's annual Agriculture, Industry and Commerce Fair, Mozambique President Filipe Nvusi interacted with NCBA CLUSA and local partner Mozambican Association for the Promotion of Modern Cooperatives (AMPCM) and said that the country "needs more cooperatives."
AMPCM is a local organization working to promote cooperatives and partners with NCBA CLUSA on the USAID-funded Cooperative Development Project (CDP) in Mozambique. The focus of the Mozambique CDP program is to support cooperative law and regulation reform through advocacy and the education of local, governmental and public stakeholders.
Presence at the fair put the program and the benefits of the cooperative business model in front of more than 73,000 attendees, including foreign dignitaries, international organizations and local government officials led by President Nvusi.
Through institutional strengthening trainings in human resources, financial management, organizational governance and sustainability, NCBA CLUSA has positioned AMPCM as the leader in cooperative development in Mozambique. Since 2009, AMPCM has led promotion, education and advocacy efforts on behalf of cooperatives across all sectors. The 23 AMPCM current members are serving 2,234 cooperatives and pre-cooperatives, involving 165,000 members in cooperative businesses working in agro-livestock, credit, health, production/industrial enterprises, health and housing.
NCBA CLUSA also caught the eye of President Nvusi at another trade event last month to promote the work of the organization's conservation farming initiative PROMAC, funded by the Government of Norway.
The Agriculture, Industry and Commerce Fair is more than 50 years old. An event that began in colonial times, the Portuguese originally hosted the fair to attract investors by showcasing agriculture and industry in Mozambique. Today, the event focuses on local innovation.
AMPCM distributed information about the new cooperative law in Mozambique, which was passed though the advocacy efforts of NCBA CLUSA's CDP program in 2009. The law created an enabling environment for cooperatives and smallholder farmers to perform business while reducing national and local barriers to registration and providing legal recognition of the new cooperative model, developed by NCBA CLUSA.