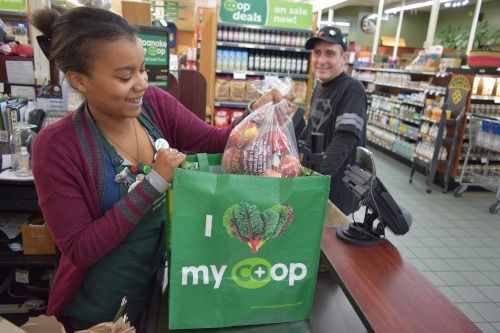 The 6th Cooperative Principle ("cooperation among cooperatives") provides cooperatives a crucial advantage, enabling them to work together on joint projects, lower costs and exchange knowledge.
This is the case at National Co+op Grocers (NCG), a business services cooperative for retail cooperative grocery stores located throughout the U.S.
As a secondary-level cooperative with purchasing cooperative functions, NCG aggregates volume among its 147 retail food cooperatives to deliver lower costs or improved access to each member cooperative.
Guided by the philosophy of "stronger together," NCG's mission is to provide the capacity of a chain while maintaining the autonomy of each individual cooperative. Beyond acting as a purchasing cooperative, NCG actively works to facilitate a strong system of peer support among its member co-ops, which makes them more resilient to individual and macro-market events.
NCG also offers training and educational resources through its online learning management system and thousands of consumer-facing brand assets for marketing and promoting its members' operations. It also publishes annual reports, explaining industry trends and issues frequent communications to keep all audiences apprised and engaged.
"The fact that we are a cooperative permits us to punch above our weight," said Karen Zimbelman, Senior Director of Membership and Cooperative Relations at NCG. "For instance, in our 16 years of operations, we have never been engaged in a single lawsuit as a result of our practices. In addition, our 147 member cooperatives are willing to guarantee each other's payables for core purchases and participate in our self-managed system to mitigate and manage that risk."
NCG also offers legislative and regulatory advocacy on behalf of its member cooperatives, and operates a consumer-facing website as well as a broad suite of consumer-facing informational materials. It conducts regular extensive national consumer research on behalf of its member cooperatives to keep its branding and messaging relevant.
Owned by their local communities, the cooperative members are passionate about local collaboration for positive change. NCG collectively donated more than $7.3 million to local community organizations in 2020. Most recently, NCG and its member co-ops helped raise more than $100,000 in donations to the Cooperative Development Foundation (CDF)'s Disaster Recovery Fund to support the immediate and ongoing needs of Ukrainian cooperators.
Food cooperatives also work individually to reduce their carbon footprint, and collaborate through NCG to reduce the negative environmental impact of their supply chain.
"NCG has accomplished more in our 16 years of operation due to the fact that we are a cooperative," said C.E. Pugh, NCG's CEO. "Our members are cooperatives, so they understand and appreciate the idea of 'the whole benefiting each part' and the 'sum is greater than its parts.' They are familiar with the concept of 'stronger together' from their own operations."
---
While you're thinking about "cooperation among cooperatives," take a moment to consider how you and your cooperative practice this principle. NCBA CLUSA is on a mission to document Principle 6 collaborations across the country so we can identify trends, document best practices and share this knowledge with you—our fellow cooperators!