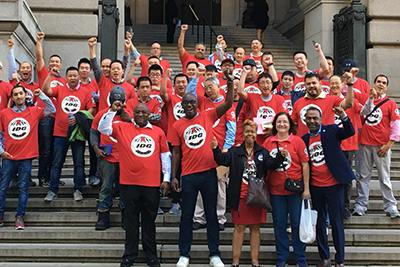 Time is running out to submit your project concept for the 6th Annual Co-op Innovation Award, created by Capital Impact Partnersin partnership with National Cooperative Bank. Winning organizations will receive a one-year grant of up to $50,000 to advance cooperative development in communities of color and/or historically disinvested communities.
Capital Impact Partners is seeking out projects that will educate new audiences on the impact and potential of the cooperative business model to disrupt income inequality, steward community ownership, and create strong, vibrant places of opportunity.
Priority will be given to food, worker and housing co-ops, but all sectors are invited to apply. Capital Impact Partners uses Submittable to accept and review submissions. Create your free account and access the application here. Applicants have until February 10, 2020 to submit their Letter of Interest.
Winners of the 2019 Co-op Innovation Award included the Independent Drivers' Guild (IDG)and Centro de Trabajadores Unidos: United Workers' Center (Centro). IDG was awarded $25,000 to launch a purchasing cooperative that would reduce expenses for drivers, including fuel, car washes, oil changes, dash cameras, meals-on-the-go, and car repair. The guild represents more than 85,000 for-hire vehicle drives in New York City, 90 percent of whom are immigrant workers. For these low-wage drivers, these cooperatives are a means of finding more financial stability in a highly competitive industry by providing more take-home pay. Centro was also awarded $25,000 to fund a dual-language, culturally appropriate train-the-trainer curriculum for both worker cooperative developers and individuals seeking to start worker cooperatives.