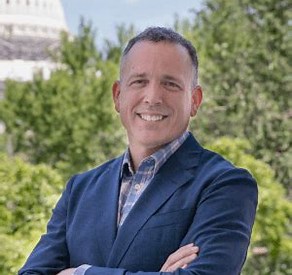 Tune-in to WOL 1450 AM, or Tune-in Radio on September 23, for Everything Co-op, hosted by Vernon Oakes. This week Vernon interviews Rob Larew, President of the National Farmers Union. Vernon and Rob will discuss how COVID-19 has impacted farmers, and his appeal to Congress to provide the relief hungry Americans and rural communities need to withstand this crisis in the second tranche of pandemic aid.
Rob Larew was elected National Farmers Union's 15th president during the organization's 118th anniversary convention in 2020. Larew, who was raised on a West Virginia dairy farm, served as NFU's Senior Vice President of Public Policy and Communications since fall 2016. In that role, he oversaw the organization's legislative advocacy in Congress and the executive branch as well as its public relations activities. Prior to his employment with NFU, Larew served over 22 years in Congress and the U.S. Department of Agriculture (USDA), most recently as the staff director of the House Committee on Agriculture.
Rob has called for any additional aid to be distributed to those who need it the most. (See his statement below)
"Even as restrictions ease, it is evident that farmers will be feeling the effects of the pandemic for quite some time. Markets have been slow to recover, prices remain low, and processing facilities are still backed up. While these challenges persist, farmers will certainly need assistance to stay solvent – and we are grateful that USDA is providing it through another round of CFAP.
"This support is absolutely crucial – but it is just as crucial that it is distributed fairly and equitably. The first round of funding, though greatly appreciated, was not without its flaws; not only did it favor large farms over smaller ones, it also sent millions of dollars to foreign-owned operations and excluded some farmers entirely. With Congressional oversight, we ask that USDA rectify these issues and ensure that payments are commensurate with demonstrated need.
"It's important to note that farmers are by far not the only Americans in need of relief right now; millions are out of work and experiencing food insecurity, family-owned businesses are struggling to stay afloat, already strained rural hospitals are hemorrhaging money, and students without broadband access are falling behind in school. It's unacceptable that it has been months since these groups have received any help at all; Congress must act quickly to provide the support that all Americans need to withstand this crisis."