The young girl who once raced around the community center at Rochdale Village Co-op in Queens, New York City is now one of the fastest Olympic hurdlers of all time.
Dalilah Muhammad is the second female 400-meter hurdler in history, after the UK's Sally Gunnell, to have won the Olympic, World titles and broken the world record. She is also the second American Muslim woman to win an Olympic Gold Medal.
In 2016 at the Rio Olympics Games, Dalilah Muhammed became the first American woman ever to win a Gold Medal in the 400-meter hurdles. She won a Gold Medal for the 400-meter hurdles at the 2019 World Championships with a world record of 52.16 seconds. Muhammed also won Gold in the 4×400 meter relay at the same 2019 World Championships.
At the Tokyo Olympics this summer, Muhammed won all her heats and took Silver Medal at the 400-meter hurdles. On August 3, she achieved a personal best of 51.58 seconds, beating the existing world record and making her the second fastest woman in the world at this event. A few days later, on August 7, Muhammed won another Gold as part of the U.S. Dream Team that won the 4×400 relay.
Muhammed was born in 1990 and grew up in Rochdale Village, a housing cooperative sponsored by the United Housing Foundation. From a very young age, she showed athleticism—especially in track events. After running competitively during high school, Muhammed won an athletic scholarship to the University of Southern California (USC). In 2012, she turned professional and has continued winning.
The track and field athlete says "having a big house or a lot of money" used to motivate her to do her best. But that's no longer the case. Now it's all about giving back to her community, Muhammad told NCB Channel 4 in New York.
"It makes me proud to be representing Queens and to be from Rochdale Village," she said. "It's definitely the thing that pushes me forward to do my very best."
"It makes me proud to be representing Queens and to be from Rochdale Village," she said. "It's definitely the thing that pushes me forward to do my very best."
After Muhammad won the gold medal in the 400-meter hurdles in the Rio Olympics, her mother, Nadirah, told NCB Channel 4 that "all of Rochdale Village broke out into a roar." When Muhammad returned home, the co-op organized a parade and event to honor her Olympic achievements. Both of Muhammad's parents have careers in public service and have recognized the role community has played in their daughter's success.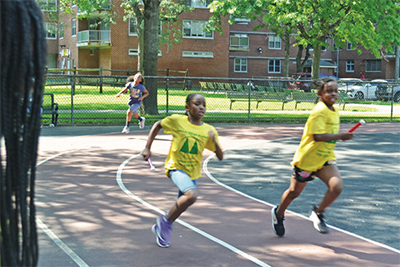 "There's an African proverb that says it takes a village to raise a child, and in our experience, that is the absolute truth," her father, Askia, said. "So many people contributed to the success of Dalilah and all of our children."
Dalilah isn't the only local Olympian. In 1968, Robert Beamon won a Gold Medal for his long jump at the Summer Olympics in Mexico City, setting a record he held until 1991. Beamon has participated in Rochdale Village's Summer Academy, inspiring local kids to dream big.
About Rochdale Village Housing Cooperative
There are 5,860 apartments at Rochdale Village in 20 buildings of 13 floors each. Rochdale Village sits on 120 lanscaped acres, most of which previously had been the Jamaica Race Track. Nearly 25,000 people live at Rochdale Village. When it opened in 1963, Rochdale Village was the largest housing co-op in the world. It is now 2nd after Co-op City in the Bronx at 16,000 apartments. It takes about three years on the Rochdale Village waiting list before an apartment becomes available.