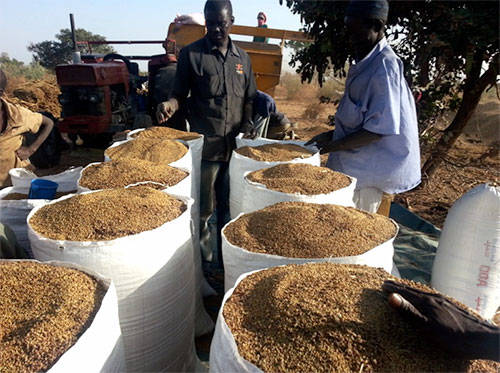 Once considered a subsistence crop, millet is now the key to higher crop yields and rising profits for some nine thousand smallholder farmers in Senegal, thanks to an agricultural value chain project implemented by NCBA CLUSA.
Launched in 2009, the five-year, US$4 million project spurred millet value chain development in Senegal's Peanut Basin—the source of three quarters of the country's grain and peanut production and home to the Serer ethnic group.
Through the Millet Value Chain Project, NCBA CLUSA demonstrated and helped smallholder farmers adopt new agricultural techniques. These methods ranged from conservation farming to composting. Beneficiaries learned ways to prevent Striga, a parasitic weed that attacks millet and other cereal crops. The project also recommended the use of inorganic fertilizer, such as phosphate, to help jumpstart crop growth early in the growing season.
The project targeted the full spectrum of the agricultural value chain—from agricultural equipment and fertilizer suppliers to millet processors, traders and even consumers. Beneficiaries received training in cooperative governance and management, the basics of cooperative life, literacy and accounting, and marketing strategies.
The final evaluation report, released this month, indicates that the overall project results came in well above targeted goals.
While the direct beneficiaries of the project were farmers in 30 rural communities in Senegal, the Millet Value Chain Project indirectly impacted more than 100,000 family members in the region.
The project also facilitated access to credit and supported the mobilization of personal savings. More than 400 millet farmers opened a bank account as a direct result of the project.
High population and nonstop cultivation in Senegal have led to widespread poverty and land degradation in recent years. A food and nutrition crisis that struck the country in 2005 further challenged a region already plagued by drought, irregular rainfall and poor soil quality. Only five percent of the Sahel is irrigated.
Amid demographic growth and increasing urbanization, the sustainable increase of agricultural production in Senegal is vital to ensuring food security in the west central African country.