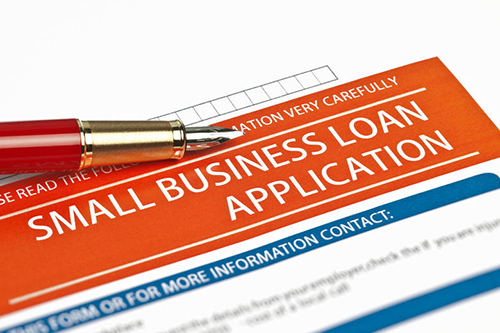 The federal government is currently updating regulations for programs that could impact access to financing for cooperatives. Keep reading to find out how you can help NCBA CLUSA and its partners advocate for equitable co-op financing!
---
Financing for cooperatives can come from various sources including cooperative banks, credit unions, and other entities certified as Community Development Financial Institutions (CDFIs). Currently, the U.S. Treasury's CDFI fund aims to promote community development in low-income communities through CDFI entities like certain banks, credit unions, loan funds, or other capital providers. We've also seen certain CDFIs tailoring the majority of their resources toward cooperatives.
While these funding sources help cooperatives start up and grow, cooperatives still face barriers to accessing the capital necessary to succeed.
Importantly, co-ops still cannot access small business loans through the Small Business Administration (SBA)'s 7(a) loan guarantee program the way standard small businesses can. SBA requires a "personal guarantee" from an owner with a 20 percent stake in the business to receive the small business loan guarantee. In the cooperative business model, no member typically owns more than a 20 percent stake in the business, meaning the personal guarantee effectively bars cooperatives from accessing this program despite being explicitly listed as an eligible entity.
Learn more about barriers to 7(a) loans for co-ops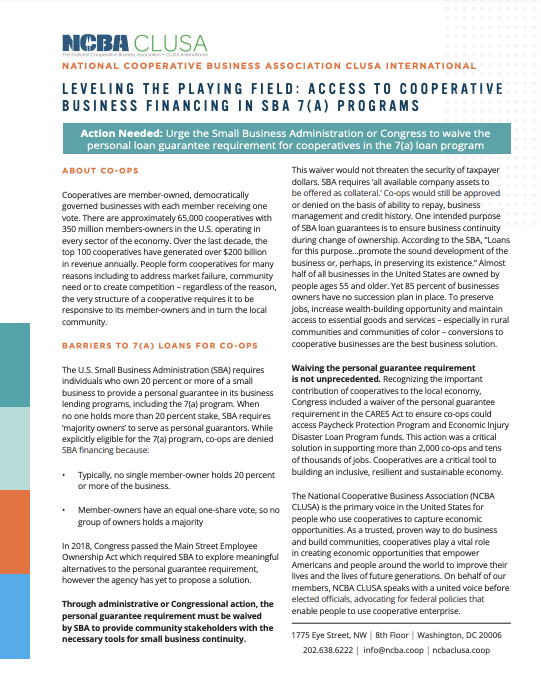 An opportunity to advocate for change
SBA recently opened an opportunity for public comment on a proposed rulemaking regarding affiliation and lending criteria for the SBA business loan program. The intent behind the proposed rule on SBA's business lending programs would allow borrowers to use 7(a) loans "to purchase a portion of or the entirety of an owner's interest in a business, or a partial or full purchase of a business itself." While the proposed rule fails to address SBA's personal or equity guarantee requirement within its 7(a) lending programs, it does provide an opportunity for cooperative voices to be heard and advocate for this change.
How you can help
SBA Proposed Rule on 7(a) Lending Programs
You can help NCBA CLUSA and its partners preserve and expand co-op access to equitable finance. Comments on the SBA proposed rule for its business lending programs are due on December 27, 2022. Here are two ways to get involved and advocate for equitable access to capital for cooperatives:
If you have questions or would like to get involved in advocacy efforts going forward, email Aaliyah Nedd at anedd@ncba.coop.