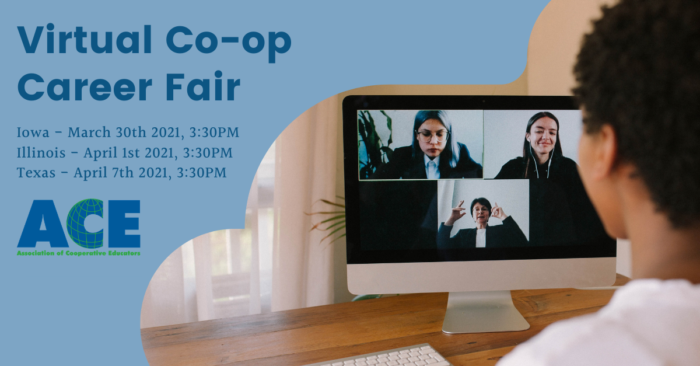 During these extraordinary times, American college students have had to adapt to online learning formats and a more difficult networking environment. Whereas coffee chats and fireside chats were common on American campuses, the environment in which we live is no longer conducive to these events. Youth unemployment continues to rise in relation to adult unemployment, and new grads are having to adapt to a difficult virtual networking environment with increased competition amongst employers and students for a limited number of positions.
The Association of Cooperative Educators (ACE) is announcing a strategic partnership with the National Co-operative Business Association CLUSA (NCBA CLUSA) to host a pilot virtual career event in the D.C., Maryland and Virginia area, for students and employers looking to network and hire quality talent in the co-op sector. This event, which will be hosted on June 2nd at 3:30pm, will provide students with information about opportunities for internships and employment in the co-op sector, which has demonstrated resiliency in times of economic crises such as these. Employers will meet a diverse student group with an equally diverse skillset, all sharing the common principles and values of cooperation.
This partnership leverages NCBA CLUSA's expertise in advocating for an environment that fosters co-operative development and expansion in the United States, its connection to local co-ops and a vision to build a better world. The project will also leverage ACE's ability to convene experts and learners from the co-op education sphere, while providing opportunities to broaden their horizons in the co-op sector and apply their expertise in a tangible way.
If you are an employer of student seeking to participate in this co-op career fair, please communicate with ACE or NCBA CLUSA using the contact information below.
About NCBA CLUSA:
The National Cooperative Business Association CLUSA International (NCBA CLUSA) is the primary voice in the United States for people who use cooperatives to build a better world through an inclusive economy. NCBA CLUSA protects, advances and promotes the cooperative business model, recognizing it as the equitable, sustainable, participatory and stable way to grow the economy. Through its international development programs, NCBA CLUSA works through the cooperative principles in more than 20 countries in Africa, Latin America and Southeast Asia. Since 1916, NCBA CLUSA has shared the cooperative advantage, highlighting the impact cooperatives have in bettering the lives of individuals, families and communities. Through its advocacy program, NCBA CLUSA educates lawmakers and promotes the cooperative business model, working with public and private thought leaders.
Contact: Nina Sader, NCBA CLUSA Manager of Membership and Sponsorship, nsader@ncba.coop
About ACE:
The Association of Cooperative Educators was founded in 1952 with a mission to unite co-op professionals, researchers and students to promote co-operative education across America. We believe that the co-op sector is a pillar of social and economic development in our communities and we seek to collaborate with stakeholders to provide innovative co-operative solutions for our future.
Contact: Michael Norris, The Association of Cooperative Educators, info@ace.coop