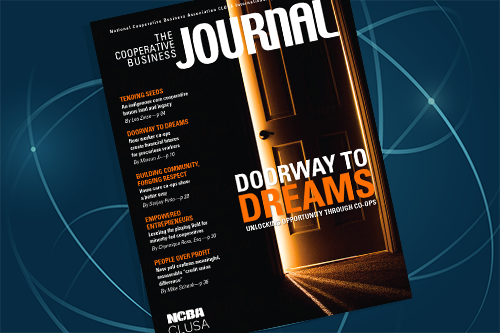 NCBA CLUSA is pleased to announce that a new issue of the Cooperative Business Journal is now available online.
Our Fall 2022/Winter 2023 issue of the Journal is part of an ongoing initiative by NCBA CLUSA and the Cooperative Development Foundation to demonstrate how co-ops are advancing democratic governance and empowerment; diversity, equity and inclusion; and the financial security and advancement of workers.
Made possible with generous support from the Robert Wood Johnson Foundation, this initiative is amplifying the potential of cooperatives to build community power by moving beyond rhetoric to take action.
The articles in this issue of the Cooperative Business Journal continue our DEI conversation, illustrating the power of cooperatives to open doors and unlock opportunities. From Lea Zeise, we learn how an indigenous corn cooperative is honoring land and legacy. Sanjay Pinto unpacks why homecare work is devalued and how co-ops are responding with dignified jobs and living wages. In "Doorway to Dreams," Minsun Ji writes about worker co-ops creating financial futures for precarious workers. From Chynnique Ross, we hear how co-ops are empowering entrepreneurs of color—particularly Black women. Finally, Mike Schenk reports on recent analysis that confirms the "credit union difference" is both meaningful and measurable when it comes to financial well-being.
"As we move into a new year, I hope these stories inspire your own DEI journey," writes NCBA CLUSA Board Chair Carla Decker, who guest authors this issue's Perspectives.
---
Support for this issue of the Cooperative Business Journal was provided by the Robert Wood Johnson Foundation. The views expressed in the Journal do not necessarily reflect the views of the Foundation.