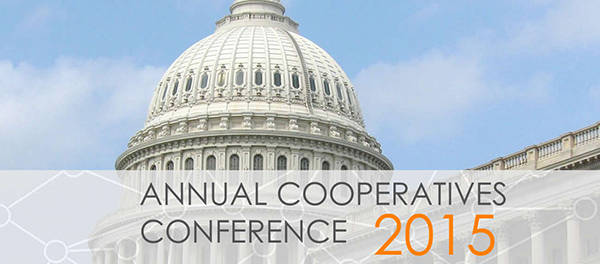 NCBA CLUSA is hosting the first cross-sector cooperative advocacy conference in Washington, D.C., from May 4 to 6. Registration is now open for this groundbreaking event. With its theme, "Uncommon Power, Common Purpose," this advocacy conference will give members and supporters the opportunity to bring their cooperative issues and voices directly to the nation's capital and engage with federal policymakers to protect and advance the cooperative business model.
Cooperatives inject $3 trillion into the U.S. economy every year. They create millions of jobs and offer solutions to meet challenging public policy issues—from affordable housing to early childhood learning. They spur economic growth in underserved rural America; empower individuals, families and communities; and ensure that Americans have access to high-quality goods and services at competitive prices.
This conference is designed to educate and inform policymakers by demonstrating the scope and value of the cooperative model and movement and the important role cooperatives play in the nation's economy. It will also seek to advocate on federal policy issues unique to the cooperative community.
To bring attendees unfamiliar with advocacy up to speed, NCBA CLUSA will host an Advocacy Boot Camp on May 4. NCBA CLUSA's advocacy team will guide attendees through the dynamics of effective advocacy and current areas of opportunity. We'll then lead multiple "Hike the Hill" meetings to present a united cooperative agenda to policymakers on Capitol Hill on May 5 and conclude with meetings with federal agency and Obama Administration officials on May 6.
NCBA CLUSA was an active voice on Capitol Hill in 2014. Our advocacy efforts helped successfully restore $22 million in funding for the Rural Cooperative Development Grant (RCDG) program. NCBA CLUSA was also part of efforts to fast-track bipartisan food security legislation in Congress last year.
2015 holds the promise of being the year cooperatives break through. Our federal officials need to know who co-ops are, what co-ops look like, where they're found within the economy, and why people consistently choose the goods and services co-ops provide. You can be an integral part of this process by demonstrating the impact cooperatives have in your communities. Join us to harness the power of advocacy as we educate and inform policymakers and work toward building a better informed electorate with Uncommon Power, Common Purpose.