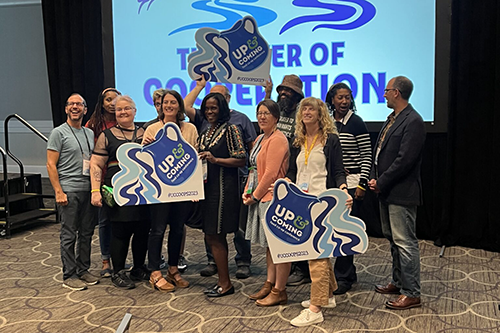 On the sunny weekend of September 14-16 in St. Paul, Minnesota, the Indiana Cooperative Development Center and Food Co-op Initiative co-hosted their annual Up & Coming Food Co-op Conference, creating a weekend full of community, action and joy among the food co-ops that strengthen our communities. We were so happy to attend and network with people from all walks of life who share space in this cooperative world.
The first day of the conference began on Thursday with a Black-led track in which Black cooperators joined to network and share in the community. This also included Black-led workshops created to organize and build strategic plans for success in the co-op space, a visit to the George Floyd Memorial and the Seward Community Co-op with NCBA CLUSA Board Member LaDonna Sanders Redmond, followed by networking receptions at Pimento Jamaican restaurant and Urban Growler Brewing, Minnesota's first woman-owned microbrewery.
Friday's events began with many workshops and presentations for the six tracks to follow at the Up & Coming Food Co-op Conference: foundations, business development, co-op organizing, peer stories, engage/play, and significant conversations. Each of these tracks was created to follow an interactive format, a panel, or a case study to facilitate all forms of learning. Friday featured NCBA CLUSA's Executive Vice President & Chief Financial Officer Valeria Roach, whose session "How to Be a Great Employer (and not Get Sued)" allowed attendees to learn the characteristics of a good employer, legal requirements and policy development to protect the interest of the business, as well as learning how to implement sound business practices and become a low-risk employer.
Malik Yakini, executive director and co-founder of the Detroit People's Food Co-op, also discussed on Friday his 10-year journey in the fight for food justice in the Motor City alongside the co-op's board president Lanay Gilbert-Williams in a conversation moderated by Everything Co-op Host Vernon Oakes. Malik will also be a keynote speaker at next week's Cooperative IMPACT conference, sharing his insights and inspiring participants to contribute to developing food sovereignty in the U.S. that embraces Black communities in the Americas, the Caribbean, and Africa.
To wrap up the event and community-filled weekend on Saturday, attendees spent time celebrating one another for the work they are doing in their respective neighborhoods and honoring the hurdles that can be faced in creating a food co-op, whether it is discriminatory, or building community buy-in.
We were so happy to be able to share space with all attendees of the Up & Coming Food Co-op Conference and are fired up to do the necessary work of strengthening co-op communities across the country. We thank our friend Deb Trocha, Executive Director of the Indiana Cooperative Development Center, and her team for their incredible work in putting on this conference. We also extend appreciation to conference co-host Food Co-op Initiative, and the National Black Food and Justice Alliance, who hosted the Black-led track. We look forward to attending again next year!