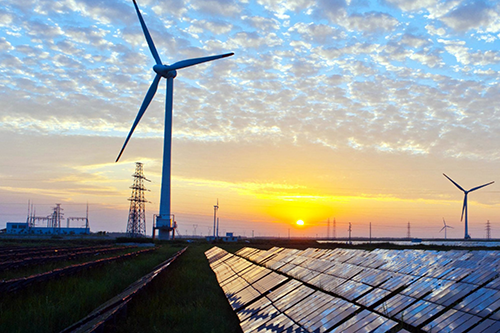 USDA recently announced that it will make $300 million available under the Rural Energy for America Program (REAP) with the goal of expanding renewable energy and supporting energy-efficiency projects for people living in rural America. $250 million of this funding comes from the Inflation Reduction Act (P.L. 117-169), while the additional $50 million comes from the 2018 Farm Bill (P.L. 115-334). Eligible entities are rural small businesses and agricultural producers, including cooperatives that meet SBA's definition of a small business. More information on SBA's small business definition can be found on this page. Businesses must be located in rural areas with populations of 50,000 residents or less. The deadline to apply for grants is March 31, 2023. Applications for technical assistance grants are due January 31, 2023.
REAP provides guaranteed loan financing and grant funding to cooperatives, agricultural producers and other rural small businesses. Funds may be used for renewable energy systems including wind, solar and hydropower generation. They may also be used to purchase, install or construct energy efficiency improvements such as insulation, high-efficiency HVAC systems, lighting, and doors and windows. Agricultural producers may also apply for new energy-efficient equipment and new system loans for agricultural production and processing.
Learn more about the REAP program and eligible uses
Interested applicants are encouraged to contact their local USDA Rural Development State Energy Coordinator well in advance of the application deadlines to discuss their project and ask any questions about the REAP program or the application process. Additional information on the application process can be found here. Projects in underserved areas are prioritized for funding under this notice.
Two cooperatives have already received REAP grants as part of the FY 2022 round of funding in which USDA invested $285 million.
PKM Electric Coop in Minnesota received $89,958 to replace old security lighting with new LED lighting throughout their service area located in Warren, Minnesota. PKM Electric serves 3,995 member accounts in Polk, Kittson, and Marshall counties. This project is expected to save the businesses $49,634 in annual energy costs by replacing 701,250-kilowatt hours (kWh) of electricity per year, which is enough to power 64 homes.
Modern Cooperative Telephone Company in Iowa received $20,000 to install two 22-kilowatt (kW) solar arrays. This project is expected to save $8,216 per year and replace 53,447-kilowatt hours (kWh) (100 percent of business energy usage) per year, which is enough energy to power five homes.