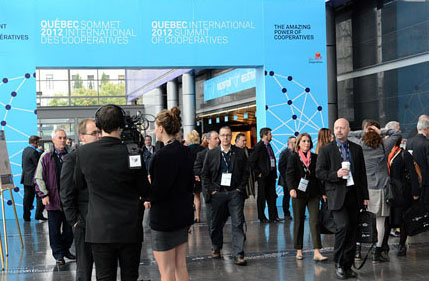 Two upcoming webinars hosted by NCBA CLUSA will introduce attendees to the leading economic platform for cooperative managers—the 2014 International Summit of Cooperatives.
Featuring Stéphane Bertrand, executive director of the Summit Organizing Committee, and Suzanne Gendron, managing vice president for Cooperative and Corporate Affairs for Summit co-host Desjardines, the webinars will explain why the Summit is a can't-miss event for co-op managers, CEOs, key staff members, board members and active cooperative members from all sectors of the cooperative movement.
Plan now to attend on Thursday, August 21 or Wednesday, September 3. Click on a date to register today!
Supported by 27 brand-new and groundbreaking studies, the 2014 International Summit of Cooperatives—scheduled for October 6 to 9 in Quebec City, Canada—will explore the challenges and opportunities surrounding the development and performance of cooperative and mutual enterprises.
More than 195 speakers will present at the Summit, among them NCBA CLUSA president Mike Beall and NCBA CLUSA's COO for International Development Amy Coughenour. Major conference sessions, roundtables and forums are slated to cover:
• Agriculture with Greg Wickham, Dairy Farmers of America; Roger Johnson, National Farmers Union; and Tom Hanlon-Wilde, Equal Exchange
• Energy with Jo Ann Emerson and Martin Lowery, National Rural Electric Cooperative Association; and Amadou L. Fall, National Renewable Cooperative Organization
• Banking and insurance with Bill York, AgriBank; Bill Cheney, SchoolsFirst Credit Union; and Charles E. Snyder, National Cooperative Bank
• Policy with Chaka Fattah, congressman, 2nd District of Pennsylvania.
Summit keynote speakers include:
• Jeffrey Sachs, The Earth Institute, Columbia University
• Laura Tyson, Institute for Business & Social Impact, University of California, Berkeley, Hass School of Business
• Peter Diamandis, XPRIZE Foundation
• Richard Wilkinson, Equity Trust
• David K. Foot, University of Toronto
Read more about the 2014 International Summit of Cooperatives at www.intlsummit.coop. Register today to attend one of these informative webinars to learn why you should attend directly from Summit hosts!