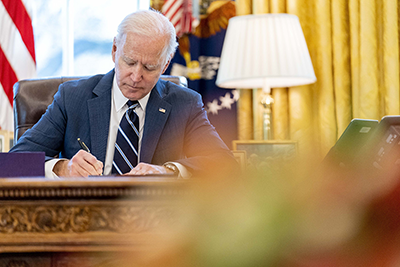 In a statement on March 12, 2021 NCBA CLUSA commended Congress and the Biden-Harris Administration on the passage of the American Rescue Plan Act. "This legislation makes clear that policymakers understand the importance of cooperative businesses in the U.S. economy and as a tool to empower more people to own, control and benefit from the businesses they use," said Doug O'Brien, president and CEO of NCBA CLUSA. "Cooperatives build a more inclusive and equitable economy for all people."
Here's what co-ops should know:
Paycheck Protection Program
The American Rescue Plan Act provides an additional $7.25 billion for the Paycheck Protection Program, available for both first draw and second draw loans.
PPP loans are administered through private lenders and 100 percent guaranteed by the Small Business Administration. These loans are forgivable if certain conditions are met on how the funds are used, including spending at least 60 percent on payroll.
To be eligible for a second PPP loan, businesses must demonstrate:
The first PPP loan the business received has been fully spent
The business has 300 or fewer employees
The business can demonstrate at least a 25 percent reduction in revenue across to comparable quarters
As of today, the Paycheck Protection Program is set to close on March 31, 2021. It typically takes one to two days for lenders to hear back from SBA on the loan guarantee, so businesses should reach out as soon as possible to their lenders.
Economic Injury Disaster Loan and Grant Program
The American Rescue Plan Act provides an additional $15 billion for the EIDL Targeted Advance (grant). Currently the SBA is reaching out to businesses who received an EIDL Advance of less than $10,000 to get the business to the full $10,000 award. For example, if a business received an EIDL advance of $7,000, the business is eligible to receive an additional $3,000 advance.
The SBA is reaching out using the contact information shared in the initial application, but please be vigilant against potential phishing scams.
In addition, new applications for EIDL advances are available only for businesses who meet all of the following criteria:
The business is located in a low-income area,
The business can demonstrate economic loss of at least 30 percent, and
The business has 300 or fewer employees.
Economic Injury Disaster Loans are still available through the 2021 calendar year. These loans are administered directly by SBA. EIDLs are not eligible for forgiveness.
On March 16, the SBA announced that the deferment period for EIDL loans issued in 2020 will be extended until 2022. The first repayment is now due 24 months from the date of the note. EIDL loans made in 2021 will have a first repayment date of 18 months from the date of the note.
For additional resources from the Small Business Administration, visit the SBA's Recovery Hub.
State Small Business Credit Initiative
The American Rescue Plan Act revitalizes the State Small Business Credit Initiative. ARP appropriates $10 billion that will help states and tribal governments leverage up to $100 billion in low-cost financing and technical assistance. States are able to launch a range of programs under this authority, so we recommend you stay in touch with your state's economic development administration.
ARP includes specific provisions to ensure credit unions, Community Development Financial Institutions and Minority Deposit Institutions are eligible to participate. The legislation also sets aside funds to support businesses owned by socially and economically disadvantaged groups as well as small businesses with 10 or fewer employees.
Agriculture
As NCBA CLUSA has shared previously, the American Rescue Plan Act also makes a significant investment in co-op development for socially disadvantaged farmers and their communities. Notably, this legislation provides $1 billion to the US Department of Agriculture for a broad range of activities including cooperative development training and support on issues concerning food, agriculture, agricultural credit, agricultural extension, rural development, or nutrition to socially disadvantaged farmers, ranchers, or forest landowners, or other members of socially disadvantaged groups.
NCBA CLUSA President and CEO Doug O'Brien led fellow co-op association leaders in a letter to USDA Secretary Vilsack that urged the Department to dedicate resources toward these activities. The recommendations include using the model of existing, successful co-op programs—including the Rural Co-op Development Grant Program, Socially Disadvantaged Group Grant, and Value-Added Producer Grant—as well as implementing new tools like multi-year grants, capacity building investments with regional and sectoral expertise, resources for monitoring and evaluation, and other packaging of existing financing tools.
"Cooperatives are a proven strategy to help empower people in agriculture and in rural communities. This business model allows everyday entrepreneurs to gain greater access to markets, create a more level playing field against big players and increase options for consumers," the group stated, "Importantly, cooperatives create lasting impact through stability and security for its member-owners. Our organizations stand ready to support USDA in implementing these critical programs to provide socially disadvantaged farmers and rural communities relief from the impacts of COVID-19 and a path toward sustainable economic recovery."
The National Council of Farmer Cooperative's Chuck Conner, Federation of Southern Cooperatives/Land Assistance Fund's Cornelius Blanding, Farm Credit Council's Todd Van Hoose, National Farmers Union's Rob Larew and CooperationWorks' Alex Stone joined NCBA CLUSA on this letter.
These and other provisions were discussed in a webinar on Friday, March 12, that can be viewed here.