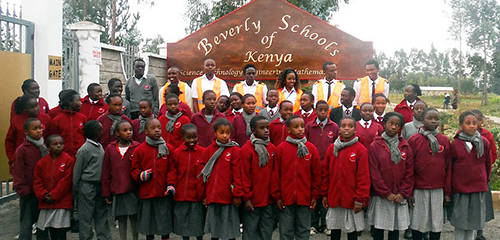 World Council of Credit Unions recently signed an agreement through its Cooperative Development Program (CDP) with Beverly School of Kenya (BSK), a private boarding school in rural Kenya, to implement an agricultural program that encourages and educates youth to view agriculture as a means of income.
World Council selected BSK for the "Future Farmer Schools" pilot program due to its focus on sciences, technology, engineering and mathematics (STEM). The program aims to involve and attract students to agriculture and agribusiness at a formative age, while also educating them on financial literacy.
"World Council is proud to equip youth with the financial, business and agricultural tools that can benefit themselves, their families and their communities," said Brian Branch, World Council president and CEO. "Through the 'Future Farmer Schools' program, we can increase youth employment in community-based farming."
With World Council's guidance, BSK will use a demonstration plot to teach children in primary and secondary school about agricultural concepts, such as market linkages, breeding, organic processes, crop rotation, genetics and the importance of irrigation.
The program's financial education component will focus on savings, capital and risk management. BSK will connect directly to E-Kenya, an entirely digital national credit union. As members, students will be able to make deposits, transfers and withdrawals from their accounts using M-Pesa, a mobile money transfer service.
In addition to educational benefits, the program will help offset expenses for the school. Crops will supply lunches. Students will sell any extra produce at a nearby market stand, which will provide micro-entrepreneurship experience. Local farmers will have an opportunity to pay to learn concepts students develop and implement on the demonstration plot. BSK will reinvest new income to improve facilities for other farming and livestock initiatives. Other resources will be used to improve academic facilities and reduce future expenses.
CDP, also operating in Mexico and Guatemala, is supported by more than US$4 million in funding from the U.S. Agency for International Development (USAID). The program, which began in 2010 and extends through 2016, focuses on creating and testing agricultural and financial tools to improve rural economic and financial sector development, personal income and food security.