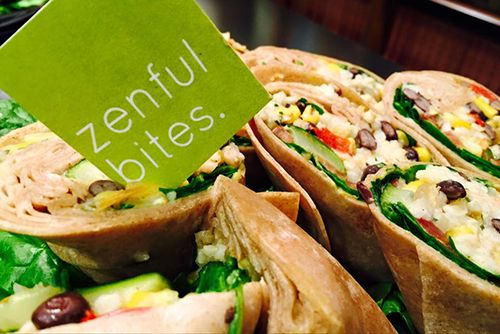 Food Activist Josephine Chu is transforming lives, one bite at a time.
As co-founder of the cooperative catering company Zenful Bites, Chu and her partner, Yolanda Hawthorne, are on a mission to build a sustainable, healthy and just food economy in the Washington, D.C., area through education and eco-catering.
When Chu and Hawthorne launched the worker co-op in 2012, Chu was teaching at a local elementary school where the duo jumped on an opportunity to provide cooking demonstrations for students enrolled in an after-school program.
That first experience teaching kids how to cook tasty, nutritious food has developed into a partnership with D.C. Central Kitchen, a community organization that combats hunger, serves healthy school meals and works to rebuild urban food systems through social enterprise.
Zenful Bites is part of D.C. Central Kitchen's Healthy Corners program, an effort funded by the D.C. Government to establish corner stores that deliver fresh produce and healthy snacks to low-income communities, especially in the food deserts of Wards 5, 7 and 8. These stores sell produce at below-market prices, making fresh, healthy food both accessible and affordable. But the program doesn't end there.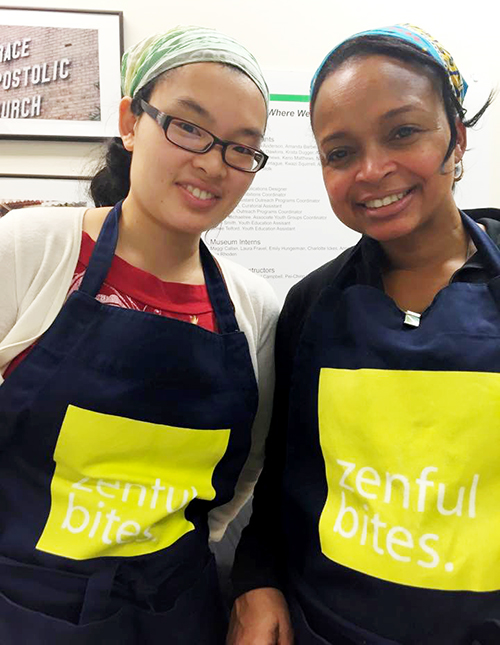 "So many studies have found that just putting the produce out there is not enough; you need both access and education in these communities," Chu said. So Zenful Bites holds regular cooking demonstrations at these corner stores, teaching neighborhood kids how to incorporate fresh vegetables and fruit into their diets, whether in green smoothies or fresh corn tacos.
With a background in environmental studies and political science, Chu wanted Zenful Bites to help achieve sustainability and labor justice in her community. The cooperative business model provided an ideal fit, Chu said, and she ended up learning on the job.
"They don't really teach you about the cooperative business model in school," she said. "I took a class in social enterprises in grad school, and it didn't cover the co-op model at all, even though I feel that class would have been a great avenue to promote cooperatives."
Chu is now working with the D.C. Worker Co-op Coalition—a group of worker cooperative owners, incubators, lawyers and grassroots organizers—to establish a support network for worker co-op startups. The coalition believes worker co-ops are the path toward economic equality and is in the early stages of lobbying the D.C. City Council to introduce a bill similar to what the New York City Council passed in 2014 that allocated $1.2 million in funding to cooperative development, Chu said. In a similar move, the Madison City Council recently committed $5 million over five years to worker cooperative development.
As more resources for cooperative development become available, Chu would like to see a dedicated effort to offer training to young entrepreneurs, like her, on the co-op business model, as well as basic business management skills—from writing a business proposal to learning how to market to customers.
"For people who want to start a cooperative, getting that initial business experience can definitely be a challenge. Having those resources available and accessible would be huge," she said. A co-op-to-co-op mentorship program, where established co-ops reach out to startups, would also be helpful, she added. NCBA CLUSA helps create these opportunities and connections through its conferences and other networking events.
As Zenful Bites grows, Chu said she and Hawthorne plan to expand their community impact and involvement. Already, they partner with local producers, such as Eco City Farms in Maryland's Prince Georges County. The nonprofit urban farm runs a summer program for local high school students to learn the entire farm-to-table process. Zenful Bites provides cooking demonstrations after students have learned how to plant, grow and harvest fresh produce.
"As we expand, we also want to hire people who might have a harder time getting a traditional job," Chu said. D.C. Central Kitchen runs a culinary jobs training program geared toward former inmates and others who face employment obstacles. Zenful Bites has previously hired graduates of the program and will continue to do so, Chu said.
Zenful Bites is also an advocate of Principle 6 and plans to support, "as much as possible," Chu said, other cooperatives in the D.C. area. Earlier this month, Zenful Bites catered a Lunch-and-Learn event for the staff in NCBA CLUSA's D.C. Office.
Helping others—especially young people—learn to appreciate fresh, healthy food is clearly a passion for Chu. While kids are sometimes hesitant to taste Zenful Bites' green smoothies, a blend of spinach, pineapple, banana and other produce, they are quickly won over and often ask for more, Chu said.
"For us, that's the best thing we can hear."
—Zenful Bites catering is available in the Washington, D.C. Metro area. Click here to learn more.