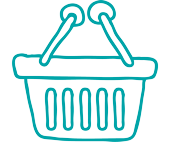 Food and Grocery Co-ops
What is a food co-op? What makes it different from your typical grocery store? The cooperative movement has changed how millions of Americans shop for food.
At a grocery co-op, the customers are the owners. After purchasing shares in the co-op, member-owners can participate in decision-making and share the store's profits. Yet everyone is welcome to shop at co-ops for local, sustainable products, even without becoming a member.
Co-ops are rooted in the local communities they serve. Compared to traditional supermarkets, food co-ops give more money back to the local economy. Grocery cooperatives do business with farmers in the area, stocking up on fresh produce and specialty items you can't find at a conventional store. Working with local food producers is an integral part of the business for most grocery co-ops.
Key Facts About Food and Grocery Co-ops
Grocery and food co-ops exercise social responsibility to benefit local communities and economies. Below are key statistics on grocery cooperatives:
Every year, U.S. food co-ops exceed $2.4 billion in combined sales
38% of a grocery co-op's revenue is spent locally, including 19% on local benefits and wages
National Co+op Grocers, a business service cooperative for retail food co-ops in the U.S., represents 218 food co-op locations serving 1.3 million consumer-members.
With more than 56,000 members, PCC Natural Markets in Seattle is the largest food co-op in the country
Benefits of Food and Grocery Cooperatives
Food co-op members take part in a vibrant community resource while enjoying several benefits. One of the seven cooperative principles is that every member has a vote. Member-owners, not external stakeholders, determine how the co-op operates and spends its money.
Active members share in the co-op's profits by receiving a refund based on their purchases. Each co-op offers unique benefits. For example, members of the PCC Natural Market in Seattle receive monthly 10% discounts.
As a member-owned enterprise, grocery cooperatives keep their pulse on the needs of the community. In every state, food co-ops transform their local economies by funneling revenue and profits back to employees, members and neighbors.
Co-op Associations in the Food and Grocery Sector
Regional, national and global associations offer many resources and opportunities for grocery cooperatives to deepen their impact:
NCBA CLUSA: A Century of Impact
Around the world, co-ops employ 280 million people and catalyze economic and social development. Cooperative business models create inclusive economies in areas where societal barriers have left behind many individuals.
For more than 100 years, NCBA CLUSA has leveraged the shared resources of the cooperative moment to engage and empower people from all walks of life. Learn more about our mission and contact us with any questions.
If you're ready to join us in advancing, promoting and defending the cooperative enterprise, become a member today.