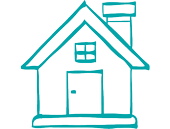 Housing Co-ops
In major cities, housing co-ops empower people with shared ownership and responsibility in their housing community. More than 1.5 million families, students and seniors in America benefit from the housing cooperative business model.
A housing co-op can be an apartment complex, a neighborhood of single-family homes, mobile home parks or student housing. Regardless of location, cooperative housing residents enjoy affordability, financial stability and collective ownership.
Members of housing cooperatives focus on the needs and interests of the group. Each resident is a shareholder in the building or land. They oversee and operate the co-op as a collective unit, not an individual real estate owner.
All residents contribute to decision-making in the community based on the seven cooperative principles, particularly a democratic ownership structure. Housing co-ops offer families limited liability, lower costs and a more empowered way to live as a community.
Key Facts About Housing Co-ops
Cooperative housing gives residents a greater stake in their neighborhoods. Here are a few key facts about housing cooperatives:
Co-op City in The Bronx, New York, is home to more than 15,000 families in 35 buildings, making it the largest housing cooperative in the world
Cooperative housing provides more than 1.5 million families with financially stable housing
More than 20 universities offer student housing co-ops near campus, reducing yearly room and board expenses by 50%
How Do Housing Co-ops Work?
Housing co-ops began in the late 1800s in cities like New York and Chicago, offering the perks of homeownership without the responsibilities.
In today's cooperative housing communities, residents buy shares to acquire a home, which remains an asset of the co-op. A proprietary lease or occupancy agreement gives the resident the right to occupy the home. Each member's monthly payment contributes to the co-op's property expenses.
Since residents share ownership of the co-op, taxes are also shared. Each member pays a small portion of the building's taxes, while enjoying the same federal income tax deductions as a typical homeowner.
All housing co-op residents have a democratic say in which new members can join the community. Prospective residents undergo an extensive evaluation process to ensure they are financially responsible and care about the co-op's interests.
Co-op Associations in the Housing Sector
As economic development organizations push for more housing cooperatives, many U.S. and international associations work to advocate for and promote cooperatives, such as:
A Voice for Cooperative Enterprise
A better world starts with empowering people to contribute to shared prosperity. At NCBA CLUSA, we create collaborative partnerships through advocacy, public awareness and representation for the entire cooperative movement. This has been our sole mission for more than 100 years.
Become a member today to actively join our ongoing work. Interested in learning more about what we do? Feel free to contact us online.