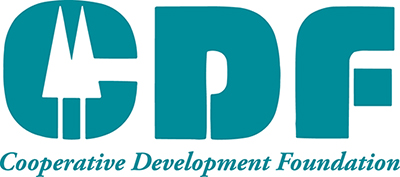 The Cooperative Development Foundation (CDF) will host the 5th Annual Cooperative Issues Forum on May 6, 2014, from 1:30 to 4:30 p.m. at the National Press Club in Washington, D.C.
Click here to register for the forum.
The Issues Forum falls during Co-op Week, an annual emphasis week in May that celebrates the cooperative movement and honors its leaders and champions. NCBA CLUSA's Annual Cooperatives Conference and Annual Business Meeting will take place from May 4 – 6 in Washington, D.C., just before the Issues Forum, contributing to a full week of co-op-focused convening and events planned in the nation's capital.
The first half of the Issues Forum, sponsored by the Ralph K. Morris Foundation, will explore why communities such as Madison, Wisconsin; New York City; Richmond, California; and Jackson, Mississippi, are investing significant resources in cooperative development.
During a panel called "Replicating Success in Cooperative Development," speakers Kevin Edberg and Hilary Abell will discuss the factors that lead to cooperative success, demonstrating that co-ops create jobs, provide high-quality community-based services and contribute to economic democracy.
Edberg, executive director of the St. Paul, Minnesota-based Cooperative Development Service, will draw from his U.S. Department of Agriculture-funded research on cooperative replication models. Abell, executive director of Project Equity in Oakland, California, will reference her publication, "Worker Cooperatives: Pathways to Scale." The panel will make the case that cooperative success is evidence-based, measurable and—most importantly—replicable.
The Issues Forum will conclude with a panel moderated by NCBA CLUSA president and CEO Mike Beall. Called "Better Together: Hall of Fame Inductees Reflect on their Careers in Cooperatives," the panel will feature the 2015 inductees to the Cooperative Hall of Fame, the movement's highest honor:
• Daniel T. Kelley, Former Board Chair, GROWMARK, Inc., Bloomington, IL
• Ann Hoyt, Professor Emeritus, University of Wisconsin–Madison, Madison, WI
• William J. Nelson, President, CHS Foundation; Vice President of Corporate Citizenship, CHS Inc., Inver Grove Heights, MN
• Judy Ziewacz, Cooperative Innovator, Madison, WI
These cooperative leaders will be recognized at the Cooperative Hall of Fame reception, dinner and induction ceremony immediately following the Issues Forum. Click here to read about their achievements in cooperative leadership and development.
The Cooperative Development Foundation is a 501(c)(3) non-profit organization committed to advancing economic and community development through innovative cooperative enterprise.